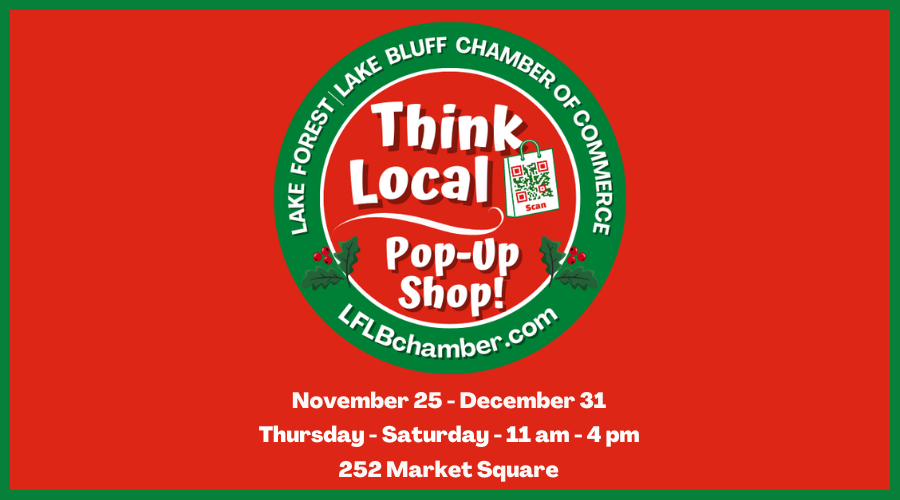 Looking for some great gift ideas while supporting some of the many wonderful nonprofits and charities in our community? Then stop by the Think Local Pop-Up Shop in Market Square!
This holiday season, the Chamber is partnering with the City of Lake Forest to present the Think Local Pop-Up Shop (formerly known as the Lake Forest Station Pop-Up Shop) at 252 Market Square, just to the left of Kiddles. In its third year, the popular holiday shop will open the day of the Tree Lighting Holiday Celebration (Friday, November 25) and will be open Thursdays, Fridays, and Saturdays from 11am-4pm throughout the holiday season. It's a terrific opportunity to find gifts that give back – simply purchase merchandise from one of the nonprofits represented and sale proceeds will go directly to that organization.
You can also drop letters for Santa, find holiday buttons and Chamber Checks for purchase at the 'Think Local Pop-Up Shop'!
We are thrilled to welcome the following wonderful nonprofit partners -- please also note special showcase dates when nonprofit staff will be on hand in the Shop:
Artists on the Bluff - December 15
Deer Path Art League - December 22
Elawa Farm - December 10
Equestrian Connection - December 2
First Presbyterian Church
Green Minds - December 8
Great Lakes Adaptive Spots Association (GLASA) - December 23
Lake Bluff History Museum
Lake Forest High School Boosters - December 17
Lake Forest High School Foundation
Lake Forest Open Lands Association - December 24
Lake Forest Preservation Foundation - December 9
McMahon Art Studio (benefitting all nonprofits)
Midwest Veterans Closet
Mother's Trust Foundation - December 16 (with gift wrapping!)
Paws for Patrick - December 3
Ragdale
Reading Power - December 1
Please continue to check back as our list grows!