LAKE FOREST
LAKE BLUFF
CHAMBER
The Power
of
Connection
April 21 | 7:30-9 am
Make B4Work a monthly habit!  Join us for a delicious breakfast, a congenial atmosphere and the opportunity to meet and mingle with new and old friends to build a wider business network for those ever-important referrals.
An RSVP is required – sorry, no walk-ins can be accommodated - and be sure to sign up no later than 5 pm the Wednesday before to take full benefit promotion for your business.  Register HERE.
April 21 | 7-10 pm
Don't miss the Chamber's pop-up comedy club & taste of things to come!!
Have a little cabin fever? Join us for some rollicking good fun!! Bring along some favorite people and enjoy some great stand-up comedy, yummy tastings from local eateries, a cash bar, and more.
The fun evening will feature that talents of Lake Forest's own funny man, Rick Young, along with well-known comedians Bill Bunker and Laura Hugg.
Come early for some sips and nibbles, a chance to catch up with friends, and the opportunity to jump in on the fun of a raffle, too! Grab some treats and your beverage of choice and take your seat at a table for a cabaret-style presentation and laughs galore.
And there will be wonderful food tastings to be enjoyed!! Enjoy some nibbles and sips from favorite local eateries and drinkeries, including tastes from a couple of our newest ones!
Space is limited so get your tickets today HERE!
7 pm -- Doors Open to Reception
8 pm -- Showtime
April 25 | 5-6:30 pm
Join the chamber for a special business after hours at the Lake Forest Club.  Tour the club while enjoying nibbles and light refreshments while networking with friends old and new.
This event is complimentary and all are welcome.  Advance registration required HERE.
Thank you to the Women in our Business Community!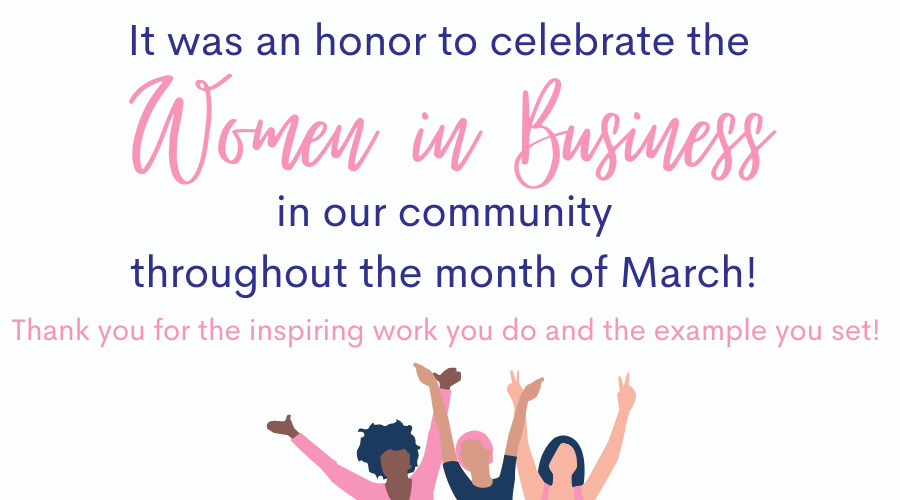 The amazing women in our business community shine across so many different and dynamic industries it was an absolute honor to celebrate so many this year.  Those who did not have a chance to submit this year, we hope to highlight you next March. The Chamber salutes and appreciates all of the women in our community! For a glance back on this year's showcase of Women in Business click HERE.
Reserve your Ad in the 2023 Community Guide!
Market your business directly to the public through our 2023-24 Lake Forest & Lake Bluff Community Guide. We're excited to announce that we have partnered with Town Square Publications to produce this issue.
As in the past, the Lake Forest & Lake Bluff Community Guide will be direct-mailed to residents and businesses in the Lake Forest and Lake Bluff communities, as well as distributed throughout the year...over 16,000 copies in all! There will also be a digital version of this guide, with live links to advertisers' websites. There are many ad options available, starting at $395.  For more information and a full list of rates, click
HERE
.
To reserve an ad or to learn more about this opportunity, please email Kathy at 
kchapman@tspubs.com
 or call her at 773-251-8644.
To view a last year's community guide and previous ads, please click
here
!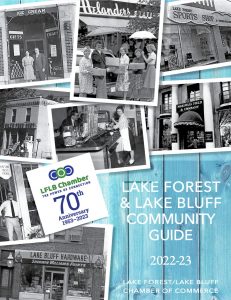 In case you missed It! 2023 Business & Government Breakfast + State of the Towns
Chamber Checks are a perfect give for all ages. They can be purchased at the Chamber office. Details
HERE
Join us in welcoming our newest members!
We are so grateful for the support of the Chamber community.  We were thrilled to welcome these new members from July 2022 to date.  We look forward to continued partnership in the new year.
Do you know someone that might be interested in joining the Chamber? If so, click here to let us know and we will follow up. We would love to thank you with a $20 Chamber Check if they join.
Thank you to our partners & sponsors...


Click here to receive our monthly community enewsletter with all the LF & LB events and business news that you need!
The Mission of the LF/LB Chamber is to connect and unite businesses, community members and both municipalities
through partnership and innovative strategies to ensure the current and future prosperity of
Lake Forest and Lake Bluff, the extraordinary place we work, play and call home.