LAKE FOREST
LAKE BLUFF
CHAMBER
The Power
of
Connection
Nov. 25 - Dec 31 
Thurs-Sat | 11 am - 4 pm 
Looking for some great gift ideas while supporting some of the many wonderful nonprofits and charities in our community? Then stop by the Think Local Pop-Up Shop in Market Square! Opening the day of the Lake Forest Tree Lighting Celebration (11/25), it's a terrific opportunity to find gifts that give back -- purchase merchandise from one of the nonprofits represented and sale proceeds will go directly to that organization.  The Pop-Up Shop is presented by the City of Lake Forest and the LF/LB Chamber of Commerce.
Check back for details & updates on our Pop-Up Shop home page!
Dec. 9 - 8 am
Join us for a special B4Work Holiday Networking Party to end the year!  Celebrate the season with both old and new business friends for some lively conversation, and opportunities to build your referral network while enjoying treats and refreshments compliments of The Fresh Market.
​If your time permits, we invite you to join us for a private shopping experience at our seasonal Think Local Pop-Up Shop -- we'll be strolling over immediately following B4Work. The Pop-Up features merchandise and gifts from local nonprofits and all sale proceeds go directly back to the organization. What is better than giving gifts that give back?!
Complimentary admission and guests are welcome.  Register
HERE
.
2020 Lake Forest Cocoa Crawl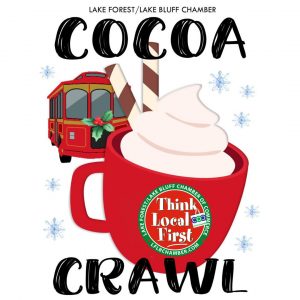 The Chamber's annual Lake Forest Cocoa Crawl was a great success!
Visit our Cocoa Crawl  page for a gallery of photos of this fun celebration of 'Small Business Saturday'.
Chamber Checks are a perfect give for all ages. They can be purchased at the Chamber office. Details
HERE
Join us in welcoming our new members in 2022!
We are so grateful for the support of the Chamber.  Please join us in welcoming our new members to date in 2022. Do you know someone that might be interested in joining the Chamber? If so, click here to let us know and we will follow up. We would love to thank you with a $20 Chamber Check if they join.
International Chamber Artists
Rhoades Levy Law Group
Monochromatic Designs, LLC
Thank you to our partners & sponsors...


Click here to receive our monthly community enewsletter with all the LF & LB events and business news that you need!
The Mission of the LF/LB Chamber is to connect and unite businesses, community members and both municipalities
through partnership and innovative strategies to ensure the current and future prosperity of
Lake Forest and Lake Bluff, the extraordinary place we work, play and call home.