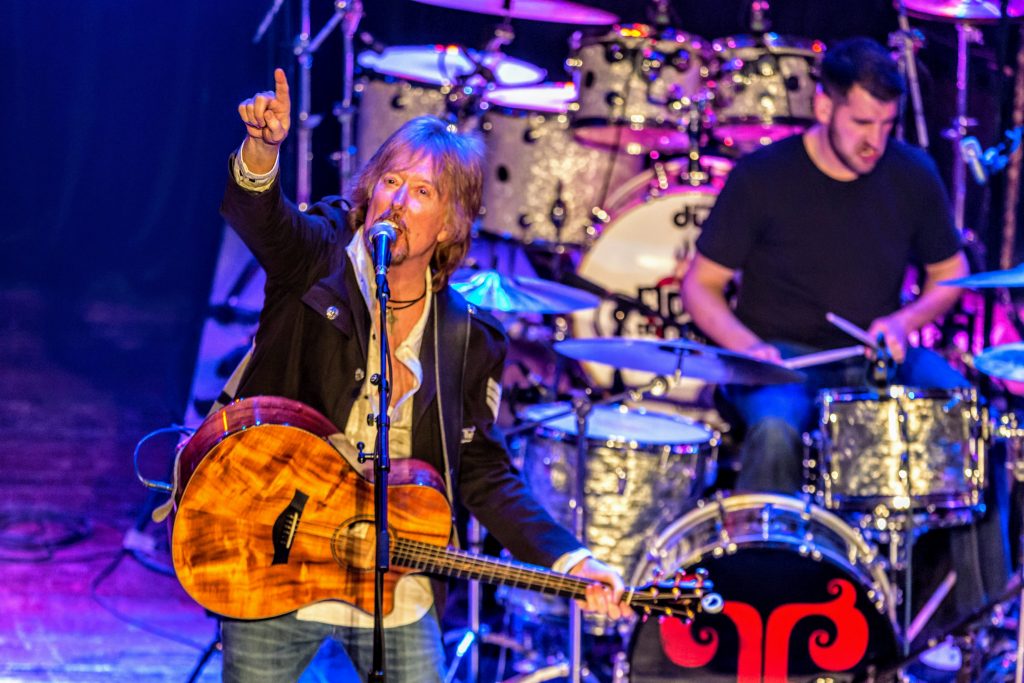 Member Spotlight: Tom Fuller, Singer/Songwriter
Lake Forest / Lake Bluff Chamber:  Tell us a little bit about your music and your career journey?
Tom Fuller:  For 30 years, I have been a singer-songwriter mostly of rock as well as pop-rock songs.  With my rockin' 5-man band, I have performed all over the world at some of the most iconic music venues such as The Paradiso in Amsterdam and the Cavern Club in Liverpool as well as numerous famous music clubs in the USA, such as various House of Blues locations, including Chicago.  My band and I have also toured with many other top bands including Little Feat, Tesla and many more.  Within the last 5 years, I am very proud to earn three Billboard-charting tunes.  Currently I am finishing up recording my sixth album called Straight From The Heart where I stripped down my past rockers and ballads down to their core, reinventing them as intimate acoustic-based love songs.  Some of those songs I will be performing acoustically on October 20th at the Gorton Center, plus I will bring out my band to rock out during this full-length concert event.
LF/LB: What inspired you to pursue a career in singing and songwriting?
TF:  Ever since I was a kid, I have been very moved and influenced by The Beatles, especially John Lennon and Paul McCartney.  In fact, I was able to get two long-time members of McCartney's current band to play on one of my albums.  This great early rock 'n roll music inspired me tremendously.  I went out and bought a guitar and started writing my own songs, often for very personal, therapeutic reasons.  This initially informal hobby has turned into a career that has resulted into wonderful experiences and fantastic friendships, among other rewards.  And I am so happy to share my love of songwriting and music with so many others.
LF/LB: What is your vision or hope for your musical career in the future?
TF:  My music career goal is to keep on writing personal, entertaining songs with lyrics that engage and uplift listeners.   It was fantastic to have three of my songs on the Billboard charts, and if I get more charting songs, that would be great.  But I am now focused on my new album coming out soon and playing a hometown show in Lake Forest at the Gorton Center.  I am super excited about that!!  My new album comes out a week after my October 20th concert.  Sometime after that, I anticipate going on tour throughout the Midwest and later in other parts of America.  Also, I already had two European tours over the years, so perhaps we will do that again next year.  Time will tell.  But simply put, music is my passion and my destiny.
LF/LB:  As a musician how you do hope to support or give back to the local community? 
TF:  Wherever I have lived, I get involved with various local charities and community activities, often revolving around pets, and more specifically, dogs.  I love dogs.  But besides that, since I now live in Lake Forest, it was extremely important that I play a concert in my new hometown at the Gorton Center's John and Nancy Hughes Theater.  This is my first show post-pandemic, and I can't think of a better venue than The Gorton to perform again!
LF/LB: Is there anything else you would like to share about yourself or your music?
TF:  I encourage rock-pop music lovers to come to my Gorton Center concert on October 20th!!  Tickets can be purchased here:  https://www.eventbrite.com/e/tom-fuller-gorton-center-tickets-703440037087?aff=oddtdtcreator
And more information on my music and career can be found on my website here: www.tomfuller.rocks