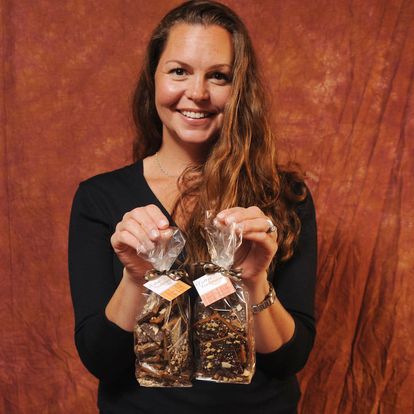 Member Spotlight: Kristen Weisberg, Owner, Toffee Traditions
Lake/Forest Lake Bluff Chamber:  Tell us a little bit about what inspired you to start Toffee Traditions and what makes your business unique?
Kristen Weisberg: Thanks, I started making toffee as a child with my beloved Grandpa, Eugene.  Then later in life hostess gifts and teacher gifts so started making our toffee recipe.  I incorporated for the first time in 2006.  My toffee is unique because it is fresh, made in small batches and in a variety of flavors.
LF/LB: What inspired you to take the leap and open a brick-and-mortar store front?
KW:  After many years in the candy business, I took a break to pursue other career options.  It was actually my sweet sister who said, "you are a candy maker do what you do best!" It was then that I decided to go big and set up shop!  In 2021, I reincorporated, rebranded, and found my little retail space in Highwood.
LF/LB: What is your vision or hope for the future of your business?
KW:  I would like to continue providing fresh delicious toffee confections as well as grow. 
LF/LB:  How does Toffee Traditions give back to the community?
KW:  Toffee Traditions has participated in many local charities and schools providing toffee contributions for events and fundraisers…Lake Forest, Lake Bluff, Highwood and Highland Park. 
LF/LB: Is there anything else you would like to share about your business?
KW:  Please stop in and try a sample, spread some sweetness!