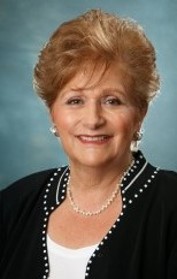 Member Spotlight: Barbara Traycee, Owner & Co-Founder, Traycee Home Care
Lake/Forest Lake Bluff Chamber:  Tell us a little bit about Traycee Home Care and the services you provide?
Barbara Traycee: I feel truly blessed that our family business, Traycee Home Care has been a pioneer in the home care industry for almost 50 years since our foundation in 1974.  It has been a true honor and a privilege to care for nearly 20,000 families on the North Shore and Chicago.  We are not a franchise – we are a family-owned business.  We customize our services to support each individual client and family. We send a registered nurse to make a care plan, customized to each individual and collaborate going forward, making everything a family decision.  Our senior home care providers and all our staff are professionally trained and vetted caregivers.  Our services include:
Senior Home Care - ranging from short term services to weekly or 24-hour support.
Specialty Care – including Alzheimer's & dementia care, cardio, stroke, and neuro recovery as well as post hospital support and added support for those involved in hospice or palliative care.
Nannies, House Management, Chefs and Chauffeur services are also available.
We understand the challenges of daily life and we always put families first and treat the loved ones we care for as we would our own family members.  We learn everything about them and treat them with dignity and respect.  Most of our staff have been with us for decades and are also like family.
LF/LB: What was your inspiration to found Traycee Home Care and embark on a career of caregiving?
BT:  When I was a young mother, I faced the challenge of raising two children while caregiving for my own mother who was facing health challenges. I struggled with the feeling that I could not find a caregiver who I felt was good enough for her.  My husband and I made a promise to do better and we started Traycee Home Care with the intention of putting family values at the heart of all we do.  We expect our caregivers to put their heart and soul in personalized care.  It is our mission to help clients and their families who are facing difficult challenges and find a sense of purpose every day.  We love to take care of and feel a part of the families we care for.
LF/LB: What is your vision or hope for the future of your business?
BT:  We recently launched a new state of the art website with lots of resources for families who are navigating the world of caregiving.  We have a monthly newsletter that we also hope provides education and insight to help families navigate challenges in a positive way.  We are always looking to share new information with the community to help educate families.  We are excited to host Dr. John Webb for an online event this July who will speak about practicing happiness.
LF/LB: How does Traycee Home Care get involved in the greater community?
BT:  I live on the North Shore, and I am an avid music lover. We regularly support the arts and various charity events.  We collaborate with other caregiving organizations to run blood drives and other initiatives relevant to our industry.  Around the holidays we have what we call the "Annual Gift of Hope" where we donate to many meaningful charities of our client's choosing.  We hope they feel our genuine support when they get a card back noting that a donation has been made in their honor.   I also make a point to always shop local.  We are a small family-run business too, so I think it is important now more than ever to support other local small businesses.
LF/LB: Is there anything else you would like to share about Traycee Home Care?
BT: My heart is open and overflowing with love for the families we care for.  When families tell me they feel like it is the end of the world, I tell them, it is the beginning of the world.  Never ever give up.  There is always something to make a person feel happy. I believe in the power of music, light, and dancing to elevate people in great ways.  We want our clients to always feel in charge.  We want to make them feel wonderful regardless of their challenges, have fun and find ways to enjoy every moment of life.  Everything is about family.  I always say, "Speak from your heart.  Dream, believe and you will achieve."