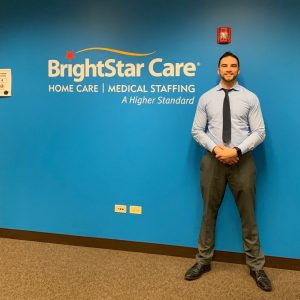 Lake Forest/Lake Bluff Chamber: Tell us about BrightStar Care?
Michael Rivera, Business Development Manager: At BrightStar Care, we have been offering in-home care for over 20 years and we are now in over 300 locations nationwide. Our focus is people centered care and are committed to being the leader in the home care industry. Our home health aides mean so much more to the people, families, and organizations they serve. BrightStar Care nurses, CNAs, and home health aides deliver professional and compassionate care in the comfort and familiarity of people's homes. We are proud to provide a range of home care services to meet your loved one's unique needs. From companionship or personal services, to assisting with bathing, and hygiene assistance to in-home infusions and medication management/reminders, our professional care staff is available 24/7 to help when you need it most.
90% of people would prefer to stay at home and age in place. Brightstar Care can help foster that by proving that 1:1 care giver in their home. Also, we service not only the senior population but also people who might have had surgery and need a little assistance at home afterward for a short period of time.
We also function as a medical staffing agency as well. We provide personnel to hospitals, nursing homes, doctors' office, labs and anywhere healthcare staff is needed. Our nurses and caregivers are all background checked and receive ongoing training.
Our mission at BrightStar Care is to improve the health and wellbeing of those entrusted to our care. From our industry-leading employment standards to RN oversight on every Plan of Care, we are committed to the highest levels of quality, support, and customer satisfaction. As a result of this ongoing commitment to quality, we have earned accreditation from The Joint Commission, the same organization that accredits the nation's best hospitals. We are honored to have just received the 2022 Provider of Choice and Employer of Choice Awards from Home Care Pulse, which is a national third-party quality and satisfaction research firm that conducts live interviews from our clients and employees.
This accreditation is recognized nationwide as a symbol of quality that reflects an organization's commitment to meeting superior performance standards and puts your BrightStar Care within the elite group of less than 10% of in-home health care agencies that have received this accreditation.
LF/LB: What inspired you to have a career in senior living?
MR: I embarked on a career in senior living due to primarily my relationship with my grandparents. Growing up I spent a lot of time with them with and grew very close to them. Naturally I was drawn to work with seniors.
LF/LB: What is the one thing you want people to know about BrightStar Care?
MR: That our quality standards and people centered care are paramount to us.
LF/LB: How does BrightStar Care get involved in the community?
MS: We work alongside Senior Centers, park districts, rehabilitation centers, medical offices, churches, and hospitals for home care resources. We also sponsor community events and very involved with community gatherings.
LF/LB: What do you envision for the future of BrightStar Care?
MS: We want to keep growing while keeping the quality of care in place. We look forward to maintaining relationships with our current clients and their families and continuing to provide compassionate care.