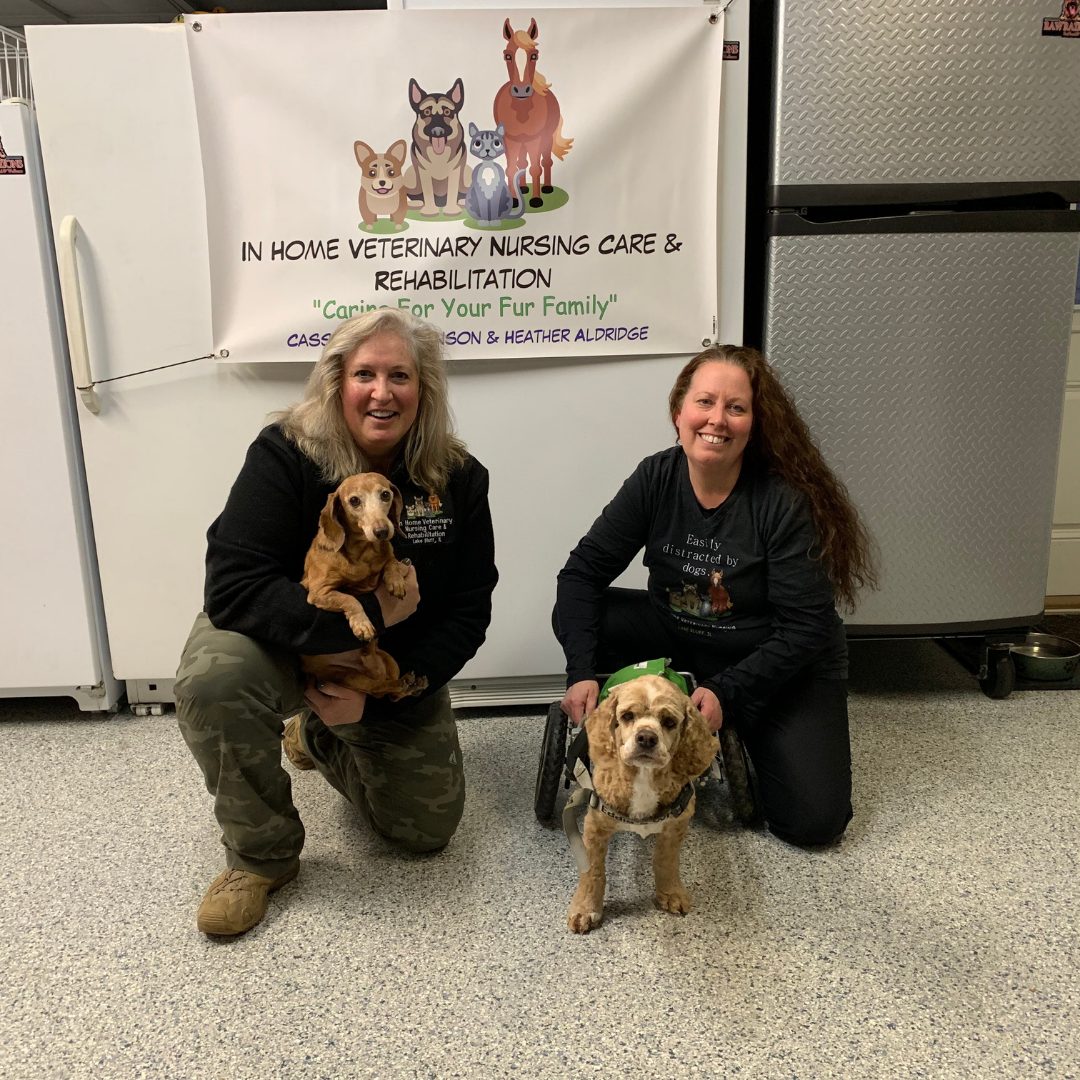 Chamber Member Spotlight-  In Home Veterinary Nursing Care & Rehabilitation
Lake Forest/Lake Bluff Chamber: Tell us about In Home Veterinary Nursing Care & Rehabilitation?
Cassandra Sorenson, Co-owner: Heather & I started In Home Veterinary Nursing Care & Rehabilitation to help owners with pets who have rehabilitation needs, whether it be pre & post-surgical care, basic physical rehabilitation, or hospice care. We offer in-clients-home visits. We also have clients that need help with veterinary directed requests. Oral and injectable medication administration, subcutaneous fluids administration, and blood draws are just a few of the requests we get. There are certain situations when we take in pets for on-site rehabilitation when there is a need for more intensive therapy or medical care.  Some of the rehabilitation treatments we offer are: cold laser therapy, e-stim, PEMF, massage and range of motion, therapeutic exercises and hydrotherapy. While providing exercise for dogs recovering from injuries, we discovered the need for training of the 'behaviorally challenged' dogs. This is Heather's forte. With her extensive background and training of police dogs, it was a natural expansion of services to offer.
LF/LB: What is the one thing you want people to know about In Home Veterinary Nursing Care & Rehabilitation?
CS:  Besides providing treatment for pets we also provide support for their owners.  It may be after a serious medical procedure, or diagnosis or a common orthopedic injury. We offer in-home care and can make daily visits usually within two days of being in contact with us.
LF/LB: What was your inspiration to embark on a career in in-home veterinary care?
CS: I have always had a love for animals and an interest in helping them 'heal'. Whether it was their mind or body that needed help, I wanted to be a part of fixing them. I became a certified vet technician and supervisor while working in an emergency/ referral veterinary hospital and then moved on to be a treatment supervisor at Tops Vet Rehab in Grayslake. I was seeing a need to make things easier for owners and their pets after going through significant medical situations. When a pet was discharged from the hospital their owners were scared and unsure of how to provide care for them. I saw people euthanizing their pets out of fear and lack of support on how to help their pets heal. Heather and I saw that there was a need for this service. 
Heather Aldridge, Co-owner:  I am a retired Lake County sheriff and K9 handler. I met Cassandra during the rehab process when one of my K9's was injured on the job. She had often worked on the K9s from my department and other departments in Illinois. We often discussed how owners came to find assistance for their animals and how, at times, it was difficult for people to get the support and rehabilitation help for their pets. Cassandra was leaving her position and I was due to retire soon. We found ourselves in the predicament of trying to help two pet owners who were in dire need of rehabilitation and respite from their beloved yet needy dogs. We started with giving it a try with those two  clients and the business grew organically. I grew up on a ranch in Nebraska and have always cared for animals so this came as second nature to me.
LF/LB: What is your vision for In Home Veterinary Nursing Care & Rehabilitation?
CS:  We want to continue to provide new and additional services with added equipment to help pets age gracefully and with minimal pain.