Cindy Kienzle - Hungry Monkey Baking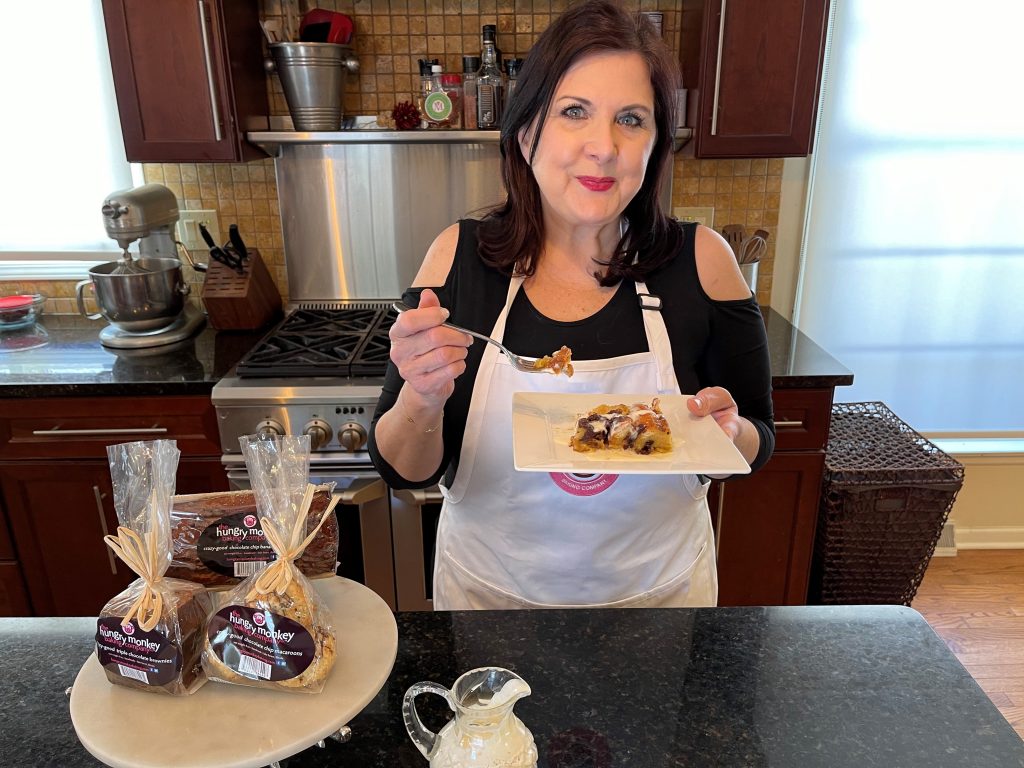 Cindy Kienzle
Hungry Monkey Baking
https://hungrymonkeybaking.com/
Lake Forest/Lake Bluff Chamber:  Tell us about your inspiration for launching Hungry Monkey Baking.
Cindy Kienzle: I always loved to bake and I always wanted to own a bakery. When I was younger, my friends would go on beach vacations and I would travel by myself to France, England, or anywhere really, to take intensive pastry classes.
When I was working full-time, I used to bring chocolate chip banana bread to the office for my coworkers and would send loaves to my friends and family. Everyone told me it was so good that I should try selling it. But I had had a marketing career for many years and just couldn't see how I could switch gears at that time.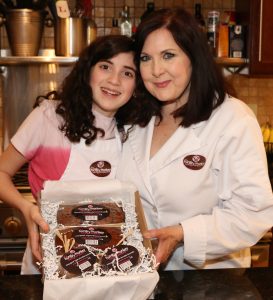 I moved to Lake Forest 14 years ago, got married and was busy raising our family. I wasn't working at the time, but I continued to pass out banana bread to friends. Then I was asked to bake for LF/LB LDA's Spring Marche. We sold out two days in a row, and I thought, "Maybe I have something here…" A local mom who owned a catering business let me use her commercial kitchen when she wasn't using it. So, I started baking and selling my products at local farmers markets. It just took off. We were featured on WGN's Hungry Hound and Sunset Foods started carrying our products in all their stores.
The Lake Forest/Lake Bluff community really inspired me. I remain grateful to so many local moms who have helped me along the way. I started the business when my daughter, Lily, was two. She is the 'Hungry Monkey.' She'll be 13 in May—and that will mark our 11th year in business.
LFLBC: What is one thing you want people to know about Hungry Monkey Baking?
CK:  We're small batch, everything is handmade locally and we don't use any preservatives. Our product line-up includes: Original and Chocolate Chip Banana Breads, Lemon Cake with a Lemon Buttermilk Icing, Cinnamon Apple Streusel Cake, Carrot Cake, Chocolate Chip Coconut Macaroons, Triple Chocolate Brownies and, seasonally, Pumpkin Bread.
LFLBC: What is your business vision?
CK: I'm in my early 60's and I'm hoping to maintain our relationship with our current stores, build up the company, grow our online business, and then retire in the next six years. My dream is for a larger company to purchase us to make the products more widely available in larger markets. Distribution is really tough, and it's not my strong point.
LFLBC: How has the pandemic affected your business?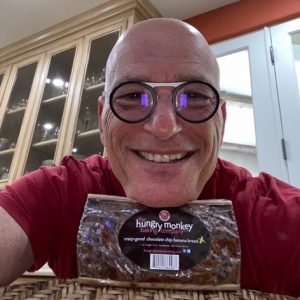 CK:  We had been growing well, but then really struggled in 2019. It was the first year we lost money. When the pandemic hit, I thought we were doomed.
But I decided to give it one more try. I had someone redesign my website, and we set it up so I could sell online. We came up with a new idea — social distancing treats boxes that people could order and send to friends and family.
We ended up being featured on www.talkshop.live (It's like Facebook Live, but you can buy things). And Howie Mandel saw it and wanted to feature us on his inaugural show. I reached out to Moms of Lake Forest on Facebook and asked for likes and comments on that talkshop.live show and about 100 local moms did! Moms I didn't even know! They really showed up for me. It gave Howie a lot to talk about! He loved our products and really promoted us, and we sold out. So, during the pandemic, it was like the perfect storm, but in a good way.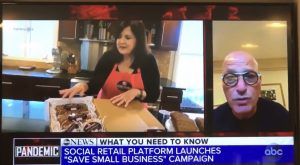 I couldn't have imagined that we would have had that boost. It led to us being featured on ABC, WGN, people.com, FOX news, and in the Sun-Times and Tribune--all through Howie.
In the past year, I learned how important it is to hold on to your dreams! You can be lost -- and in the darkest days -- yet everything turned around completely. Now we sell products online all over the country.
LFLBC: How do you give back to the community?
CK: During the pandemic we donated banana bread to front line workers at Northwestern Hospital and the ER Staff at Vista in Waukegan. Last summer we sponsored the Spirit of 67 Movie Nights. And over the years, we have donated 10% of our sales to local non-profits. People in this community have been our cheerleaders, and we love to give back.
LFLBC: Is there anything else you'd like to share?
CK: You can find our products locally at Sunset Foods, or visit our website, www.hungrymonkeybaking.com . We do corporate gifting and we can customize anything to any budget. We would love it if you would follow-us on Instagram (and we'll follow you back)!
3.16.2021