Tina Ashbeck - Wellness Solutions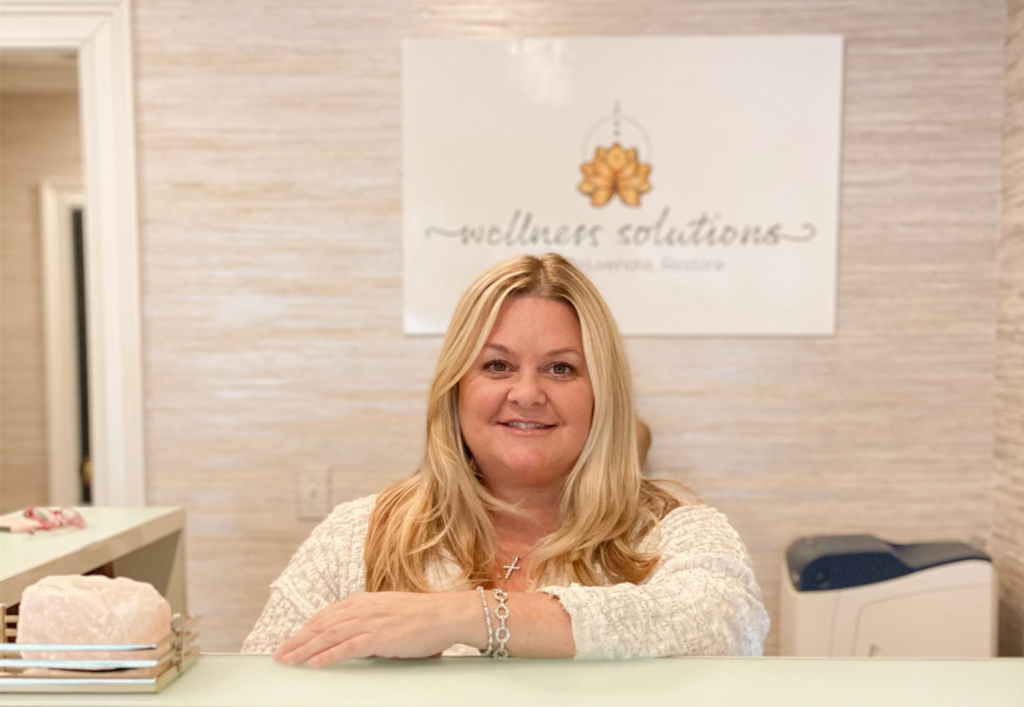 Tina Ashbeck
Wellness Solutions
https://wellnesssolutionspt.com
(847) 295-1241
207 East Westminster, LF
Lake Forest/Lake Bluff Chamber:  Tell us about Wellness Solutions and your inspiration to start the business.
Tina Ashbeck: Years ago, I worked at Glenbrook Hospital as a Physical Therapist in the Outpatient Department. I enjoyed my work but preferred to have more flexibility to see my patients when it worked for both myself and for the patient. When I decided to open a private practice, I was able to give all my clients better service on my own terms.
When I first started my private practice I only focused on Physical Therapy. I soon realized what people really needed was a holistic whole-body approach. When people come to see me for knee pain, they actually need more than just PT.  I added myofascial release work, exercise stretching, Pilates, Massage and manual therapy to compliment the more traditional PT.
In the last few years, I've continuously added more Wellness Services so people could work on the whole body and also focus on decreasing stress. When stress gets stuck in your body, it causes physical pain. One therapy we use for stress is called the Biocharger—it's a subtle energy platform that recharges you at the cellular level. We also offer Red Light Therapy that works from the outside in and decreases inflammation. These are simple to do, don't take tons of time and work for all ages. This winter we also added Assisted Stretching, which is fantastic for easing pain, increasing flexibility and more.
LFLBC: What is the one thing you want people to know about Wellness Solutions?
TA: We are not just a Physical Therapy studio. Many customers come see us for Massage, Pilates, and our Wellness services. You don't need to be injured to see us — just come to feel better and improve your overall health and well-being.
LFLBC: What is your business vision?
TA: Wellness Solutions is a place where people come to feel better, by relaxing, rejuvenating and restoring their body, mind and spirit! Our services help the whole body. Soon, we're going to have monthly speakers come in to talk on health topics like preventing stress, guided meditation, energy healing, detoxing, and other health-related topics.  We plan to have classes where people will receive wellness education and learn about staying healthy.
LFLBC: How have you adapted during the Coronavirus crisis?
TA: We're essential, so we've been able to stay open. We're taking all the precautions such as wearing masks, spacing clients appropriately and spreading out appointments. We also use air purifiers and essential oils to protect against the virus. During the health survey with clients, we talk about keeping the immune system healthy with diet, exercises, massage, meditation, and vitamins such as Vitamin D, C, Zinc and more.
LFLBC: How do you give back to the community?
TA:  We've worked together with Forest Greens Juice Bar, Lululemon, Fill A Heart 4 Kids, Quest Fitness and Lake County Haven to bring holiday cheer to those in our community!  We donated needed essentials and provided kids with holiday presents. We regularly offer Instagram and Facebook giveaways along with helping local charities.
LFLBC: Is there anything else you'd like to share?
TA: We've just launched Wellness Memberships. Clients may enroll to become a member and come in for unlimited Biocharger and Red Light Therapy sessions and also receive other services at a reduced price. It's a fantastic way to stay healthy.
Visit our website or call us and book an appointment—we'd love to help you feel better in 2021!  Mention this Spotlight for a free BioCharger session!
1.11.2021