Scott Pollak - Sandcastle Builders & Development, Inc.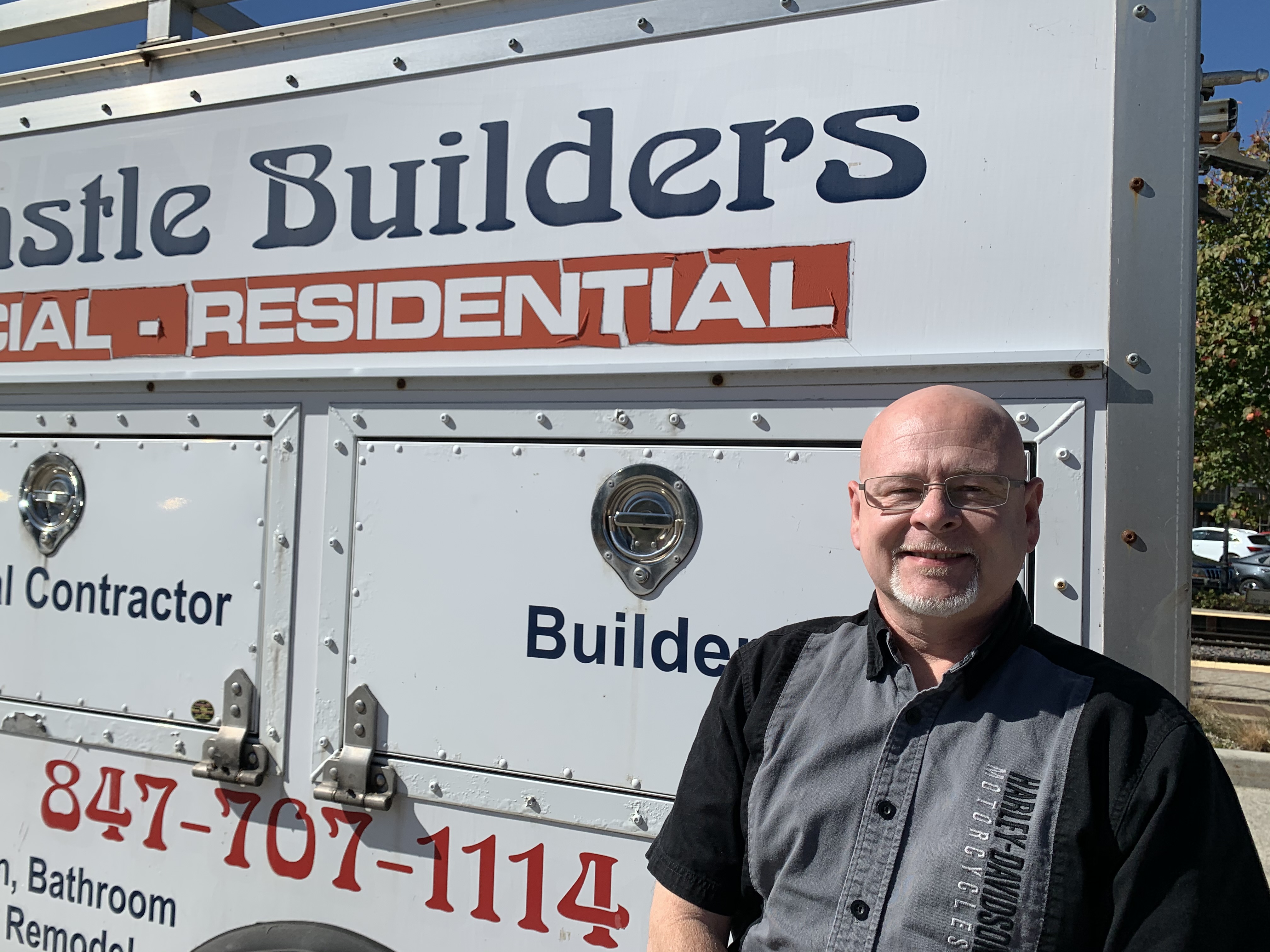 Scott Pollak
Sandcastle Builders & Development Inc.
www.sandcastlebuilders.com
847-707-1114
Lake Forest/Lake Bluff Chamber: Tell us about Sandcastle Builders.
Scott Pollak: We're a veteran-owned, licensed and insured, full-service premier general contractor and builder. We've been in business since 1985. We do jobs from a small bathroom remodel to a complete house remodel as well as full renovations to new construction from the ground up. Our team also has an interior decorator to help pull the whole project together from cabinetry, countertops, hardware, to paint colors, she works very close with the customer and keeping their budget in mind. We really want to exceed our customers' expectations. We pride ourselves that we're A-Plus rated with the BBB.
LFLBC: What was your inspiration for starting the business?
SP: I've loved architecture ever since I was a kid…especially older homes.  I told myself when I was young, that one day I'd work on old homes. So now today I get to live my dream of running my own company. We specialize in renovating and remodeling vintage homes, sometimes bringing them back to the way they looked 100 years ago. Right now, we're rebuilding a 100-year-old farmhouse and re-creating the look from interior such as kitchens and bathrooms to the fine carpentry of doors, trim and other details in their original style. I lived in Charleston, South Carolina years back and I remodeled Revolution-era homes. I just really love that part of the job and recreating history.
LFLBC: Tell us one thing you want people to know about Sandcastle Builders.
SP: We pride ourselves on delivering quality craftsmanship and customer satisfaction.  We manage construction closely, ensuring that our team stays on budget and on schedule.  Our customers' projects are completed according to the highest industry standards. We pride ourselves on our excellent communications…when my clients call or text me, they get a response that day. Some contractors have a reputation for not getting back to people, but not us. I'm a communicator, and being a veteran, I learned how important communication was when I served. When we are working on a project, I send a lot of photos and emails, and place frequent phone calls to keep our client up to date.  We really try to take the stress off the homeowner when we are on a project. We really want them to enjoy the experience.
LFLBC: What is your business vision?
SP: We've been in business since 1985 and we want to continue to grow. More and more people are watching remodeling shows on TV and customers have great ideas of what they want in their homes-- I just want to keep helping my clients create their dream home.
LFLBC: Has the pandemic affected your business? How have you adapted?
SP: COVID has made it more difficult to get building materials, and in turn, things cost more. Just before we start a project, we put together a budget and we educate our customer on the current costs, so there aren't any surprises. It puts them more at ease. Because some of our suppliers' showrooms are closed, we do all the legwork to get our clients samples. We've also tried to keep our labor costs a bit lower to offset the higher expense of the materials. We also check everyone's health before we work in someone's home, and of course we wear masks and take all necessary precautions to keep everyone safe. 
LFLBC: How do you give back to the community?
SP: For over 30 years we have been volunteering with Habitat for Humanity, supplying materials and labor. We've also worked with Youth Build Lake County. We take their students into our company to learn a trade to help them graduate from the program. We love doing it.
LFLBC: Is there anything else you'd like to share?
SP: We're getting more and more calls now from baby boomers who want to age-in-place.  Customers are staying in their homes longer now, so we've been doing a lot of bathrooms; remodels with walk-in showers, safety bars, higher toilets, countertops to accommodate wheelchairs…things that will make it easier for our clients to stay in their homes for years to come. We are currently doing an 'Age in Place' home addition in Lake Forest--a bathroom with a curbless shower and grab bars, etc.
If you're looking for a general contractor or considering making upgrades to your home or at your business, get in touch with us.  Visit our website, www.sandcastlebuilders.com, call or text 847-707-1114 or email us at sandcastlebuilders@gmail.com. We'd love to help you!
10.12.2020