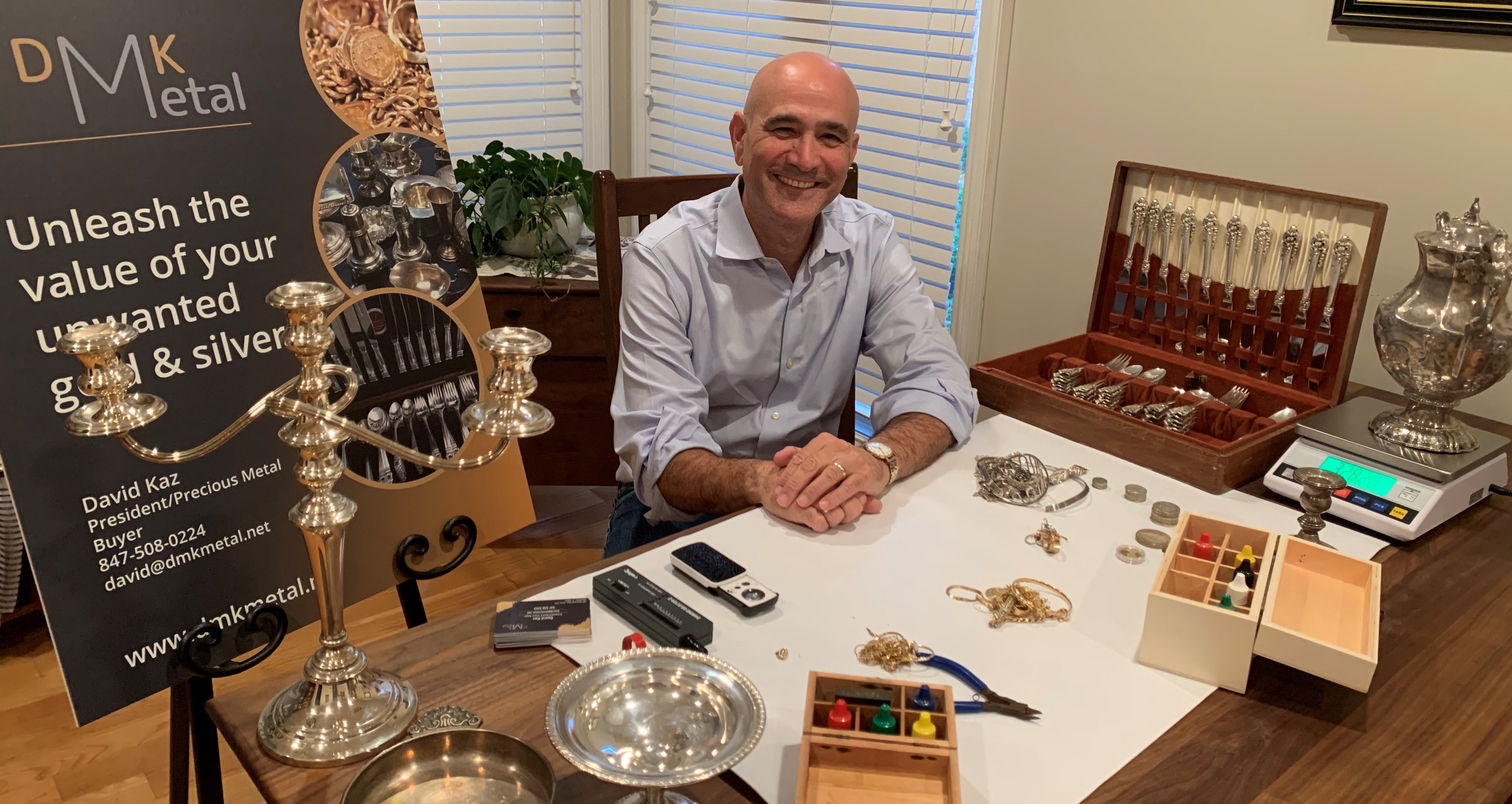 David Kaz
DMK Metals
http://www.dmkmetal.net
Lake Forest/Lake Bluff Chamber: Tell us about DMK Metal.
David Kaz:  I started the business back in 2015 to help people with their unwanted gold and silver. I meet with clients in a comfortable, safe setting, usually at their home. First, I go through all their silver items, separating plated and sterling. Then, I go through their gold items and I separate them by karat making piles of 10K, 14K,18K, and dental gold if they have it. Dental gold is usually 16K. Finally, I look at any coins they may have and explain which are gold and silver. I buy whatever they want to sell.
LFLBC: What was your inspiration for starting the business?
DMK: As a kid, I was a coin collector and quickly got interested more in the silver value than the actual coin itself.  I became very knowledgeable about gold and silver about 20 years ago. I'm such a big gold and silver enthusiast, and I really enjoy educating people on it. Starting the business was a way I could pursue my passion and make a little money with it.
LFLBC: What is one thing you want people to know about DMK Metal?
DMK: Honesty. I'm really upfront and honest with my clients. People want to be able to trust who they are working with when it comes to their highly valuable possessions. So, I educate my clients on precious metals and why they are valuable, and I can tell people more about their pieces than they already know.
LFLBC: What is your business vision?
DMK: I really consider myself an independent consultant. I'm not looking to grow this into a huge company, but to just add a quality service for my clients when they need me.
LFLBC: Has the pandemic affected your business? How have you adapted?
DMK:  The majority of my clients are seniors, as they tend to own more gold and silver than younger people. In March, April and May very few people wanted to meet in person. So, in some cases, I would pick up items at their home to bring home with me to evaluate. By June, people were ready to meet again, especially because they were decluttering and cleaning out their houses! I meet with clients wherever they are most comfortable, outside, on their front porch, in a mask (and sometimes gloves), whatever they prefer. Now with the real estate market heating up, a lot of people are selling their homes and would like to get rid of some items that their kids and grandkids don't want. So, right now, I am pretty busy.
LFLBC: How do you give back to the community?
DMK: I have partnered with groups holding charitable fundraisers on a program called "Gold for Good." It is a fundraising concept where people can sell me their unwanted items and then donate a portion of the proceeds to charitable cause they chose. I then share part of my profit to the cause as well. I have done this for groups like the Susan G. Komen Breast Cancer Foundation and the Libertyville Garden Club to raise money for a scholarship fund. Or, people can assemble donated items that I buy and all the proceeds go to the fundraiser. It is a great way of giving back.
LFLBC: Is there anything else you'd like to share?
DMK: I give an educational presentation called "Demystifying Gold & Silver" that I have delivered for groups at; Dickinson Hall, Wintrust Bank, Elderwerks Senior Fair, various senior communities, churches, and others. I have created a new presentation called "How to Identify your Gold and Silver Treasure". If anyone is interested in either presentation, they can contact me to schedule a time for me to present to your organization. I'm available 24 hours a day by email david@dmkmetal.net or text (847-508-0224).  Get in touch or visit www.Dmkmetal.net.