Samantha Shapiro and family - ENAZ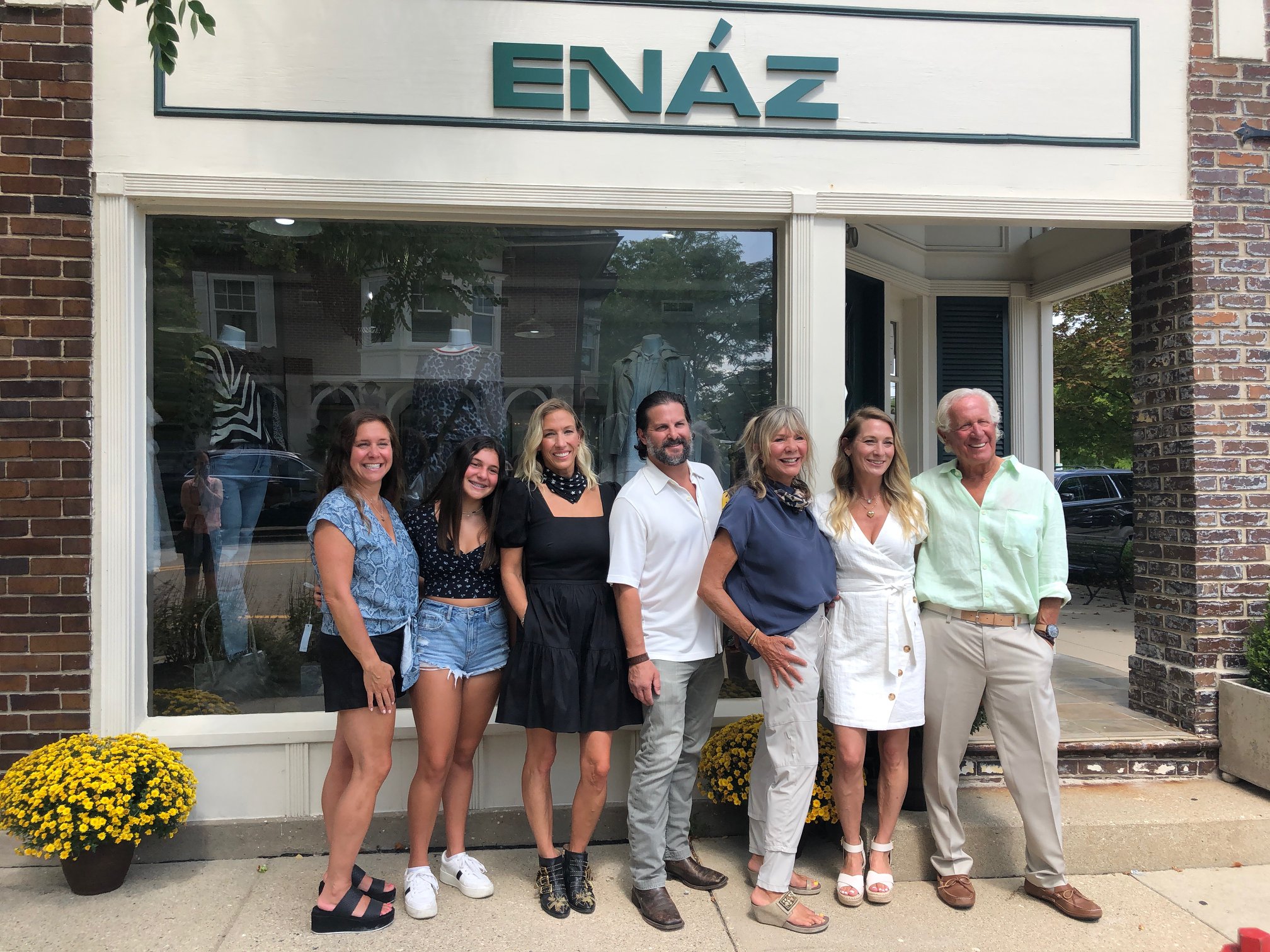 ENAZ
760 N. Western Ave., LF
www.enaz.com
LFLBC: Tell us a little bit about ENAZ.
Samantha Shapiro: ENAZ is a family owned and operated business created by Susan Lurie and run by her three daughters Melinda Kaplan, Lena Blitstein and me. ENAZ is an acronym for Energy, Nature, Attitude & Zest for Life. The shopping experience caters to mothers and daughters where you can find a vast selection of t-shirts, sweaters, denim, dresses, blouses, shoes, handbags and accessories.  ENAZ has a wide range of price points and we pride ourselves on good customer service welcoming everyone into their store.
LFLBC: What was your inspiration for starting the business?
SS: My mother, Susan Lurie, became a leather-working artist in 1986. She handmade leather goods and showcased her designs such as fringe handbags, belt bags and key chains and sold them at local art fairs. She worked out of her home for almost 7 years and as her popularity grew, she needed a bigger space to present her creations. ENAZ started as a 400 square foot store in downtown Highland Park where she sold a wide range of items to complement her designs.  ENAZ Highland Park has expanded into a 4,000 square foot location and added 3 more locations including Northfield, Chicago and most recently, Lake Forest. My oldest sister, Melinda Kaplan, has been a resident of Lake Forest for over 15 years.
LFLBC: Has the pandemic affected your business? If so, how have you adapted?
SS: The pandemic has most definitely affected our business as the ability to go out and shop became more difficult. The silver lining was that ENAZ could feature more items on our website where customers would have the luxury of shopping safe at home. We offer curbside pickup, private shopping appointments and FaceTime calls with customers. Another avenue to promote the business is live videos posted to Facebook & Instagram. Customers could feel like they were in the store shopping as they saw new merchandise and a tutorial on how to style items together to make an outfit.
LFLBC: What is your business vision?
SS: ENAZ's mission statement is to create a unique and exciting retail environment with emphasis on style, service, pride and passion. We make shopping fun, exciting and enjoyable. Customers can expect a full-service experience such as finding the perfect gift, going above and beyond to put together an outfit for a special occasion or find items to help refresh their everyday wardrobe. ENAZ offers complimentary gift wrapping and free over-sized canvas totes for larger purchases.
LFLBC: What is one thing you want people to know about ENAZ?
SS: We believe that family-owned and -operated businesses are our future!
LFLBC: How does ENAZ give back to the community?
We support our local community by featuring jewelry made by local artists. ENAZ also hosts trunks shows and special events to raise awareness for many charities such as the Lynn Sage Cancer Research Foundation and Walk to End Alzheimer's. In the past, we have supported local high schools to raise money for prom, athletics, and other school related programs. In addition, we have showcased paintings in our store front windows for various art walks. The ENAZ family believe that giving back to our community is a must as we are all in this together!