2020 LF/LB Sidewalk Sale!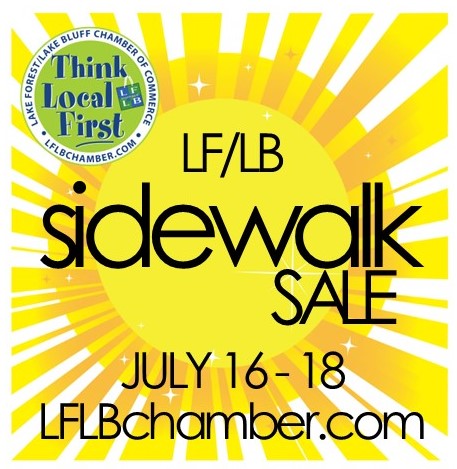 The LF/LB Sidewalk Sale is July 16, 17 & 18.
Check out the great deals offered by participating businesses:
Bedside Manor Ltd.
192 E. Westminster, LF
www.shopbedside.com/
Outside- 60% to 70% off assorted linens and decorative pillows
Inside- 30% off Yves Delorme fine linens for the bed and bath. Everything is included as part of the annual Bastille Day celebration.
Belden Interiors
207 E. Westminster, Suite 100, LF
http://www.beldeninteriors.net
Offering 50% off purchase, and raffling off a cute decorative box
Caprice Decadent US
www.capricedecadentus.com
30% discount off all items
The Clockworks, Inc
34 E Center Ave., LB
www.theclockworks.com
Special sales and pricing store wide!
Einstein Bros Bagels
728 N. Western Ave., LF
https://locations.einsteinbros.com/us/il/lake-forest/728-n-western-ave
Elements Massage-Bannockburn
2519 Waukegan Rd., Bannockburn
www.elementsmassage.com/bannockburn
Offering a $69 special price for services and gift cards (originally $99)
Enaz North, LTD
760 N. Western Ave., LF
www.enaz.com
Up to 70% off Jewelry, handbags, tops, bottoms, jackets, dresses & more…
$10, $20, $30 & $50 + sale racks! Face masks available for purchase.
Evolution Body Arts
827 Jenkisson Ave., LB
www.evolutionbodyarts.com
Half off titanium body jewelry from industrial strength with a new piercing -- No piercing fee charged (60 for first hole 30 for every hole after) with a custom gold order from BVLA! -- Buy one print from the famous Sara Ray Wolfblood get one half off -- Any LF/LB inspired tattoo (standard business card size) will be $125 in honor of the 125 anniversary. First come first serve no rain checks -- Refreshments and ice cream will be served! (No minors allowed without a parent/or legal guardian)
Fiore Press Letterpress *ONLINE ONLY
www.fiorepress.com
Sale on fine letterpress invitations, announcements & greetings…Every purchase enters you into a drawing for a free set of Lake Bluff or Lake Forest notecards. Hand lettered and letterpress printed by Carmela Heintzelman of Fiore Press.
Flotstone, LLC
57 E Scranton Ave., LB
https://flotstone.com/
Special sales and discounts!
Forest & Found
1363 N Western Ave., LF
http://www.forestandfound.com/
Forest & Found is kicking off their annual Summer Garage Sale in conjunction with the Sidewalk Sale starting July 16th. Everything in the shop will be 50% off!
Forest Bootery
284 E Market Square, LF
http://www.forestbootery.com
The Forest Needle
1341 Western Ave., LF
http://www.forestneedle.com
The Forest Needle Summer Sale!! Fun canvases on Super Sale!
Some threads on Sale and even some free threads available. Come pick up a fun summer project Today!
Freedom Home Care
289 E. Deerpath, LF
www.freedomhomecare.net
The Fresh Market
850 N. Western Ave., LF
www.thefreshmarket.com
Stop in and enjoy promotions and fill out a raffle entry for a $200 Gift Basket!  Alstroemerias $7.99 ea -- 20% discount on 4 or more bottles of wine -- 6 count cupcakes 2/$5.00 -- Red, black and green conventional grapes $1.99 lb -- Roasted chicken salad $7.99 lb.
Gerhard's Elegant European Desserts
720 N. Western Ave., LF
www.gerhardsdesserts.com
Gifted
225 E. Deerpath, Suite 138, LF
Clearance! Offering 50% off storewide through the whole month of July!
All merchandise is final sale only
History Center of Lake Forest-Lake Bluff
509 E. Deerpath, LF
www.lflbhistory.org
On July 16th and 17th only, offering great deals and discounts on James L. Lockhart nature print note cards, select books, gains-painted holiday ornaments featuring iconic community buildings, and other museum shop merchandise set up on a table in front of the museum!
The Initial Choice
226 E Westminster, LF
www.theinitialchoice.com
Offering 10-50% off summer and select apparel, $25 select Rainwear. Register to win a piece of Kipling Luggage
J. McLaughlin
261 Market Square, LF
www.jmclaughlin.com
70% off all merchandise!
Kenzy Gifts & Decor
222 E Westminster, LF
http://www.kenzygifts.com
Kiddles Sports Inc.
258 Market Square, LF
Lake Forest Book Store
662 N Western Ave., LF
www.lakeforestbookstore.com
Lake Forest Flowers
548 N. Western Ave., LF
www.lakeforestflowers.com
$25 seasonal fresh floral bouquets; Air plants in a decorative glass; Enter a raffle for a chance to win a free bouquet of flowers!;Special pricing on new home décor merchandise such as garden kneeling pads, glass candle holders, & pottery
The Lake Forest Shop
265 E Market Square, LF
http://thelakeforestshop.com/
Scoop up some amazing deals and end-of-season bargains at The Lake Forest Shop during the Sidewalk Sale!
LifeWorking Coworking
717 Forest Ave., 2nd floor, LF
http://mylifeworking.com
Private Office for $50 for a day (reg. price is $99); Private Room $30 a day (reg. price $75); Day Pass $20 (reg. price $40); *Offers purchased during Sidewalk Sale are valid for 30 days after purchase date
M on the Square
259 Market Square, LF
https://monthesquare.com
Sales and discounts on floral containers, tabletop, jewelry and more!
Magdalena European Med Spa
272 E Deerpath, LF
www.magdalenamedspa.com
Offering wonderful sale items up to 50% off!
The Mustard Seed
202 E. Westminster, LF
http://www.mustardseedfairtrade.com
"The Mustard Seed offers handmade gifts, décor, apparel and more, handcrafted by fair trade artisans from around the globe!"
Offering 10% OFF ALL JEWELRY July 14-18 ONLINE with code SUMMER10
The Optometrists of Lake Forest
510 N. Western Ave., LF
http://www.theoptometrists.com
Offering 25% off prescription sunglasses (excluding the Maui Jim brand)
Penny's from Heaven – A Children's Boutique
215 E. Westminster, LF
www.facebook.com/pennyslakeforest/
50%-90% store wide sales … A chance to win a $20 gift certificate!
Perlis Wellness Center
81 E. Scranton Ave., LB
www.perliswellnesscenter.com
Special discount pricing!; Botox/Dysport - $11/unit, Dermal Filler - $450, Lasers – 30% OFF, HCG Diet – 30% OFF
Sara Campbell
221 E. Westminster, LF
http://www.saracampbell.com
Skyflair LLC
www.skyflair.net
Raffling off a media package that includes 16 photos and a video with drone footage! 20% off discount for all new customers.
Smith's Men's Store
770 N Western Ave., Suite, 1A, LF
http://www.smithsmensstore.com
OUTSIDE: 40% OFF all sidewalk sale items; INSIDE: 20% OFF the entire store.
(Made-to-measure clothing excluded)
Valentina
227 E. Westminster, LF
https://www.facebook.com/ShopValentina
50%-90% storewide sales… A chance to win a $40 gift certificate!
Whitehead Studios
77 Scranton Ave., LB
http://whitehead-studios.com
Whitehead Studios is having "Christmas in July!" Don't miss this special one-time opportunity for great sales and discounts on ornaments, topiary and more!
As of 7.15.2020