Cristina & Cara Garrison - The Forest Bootery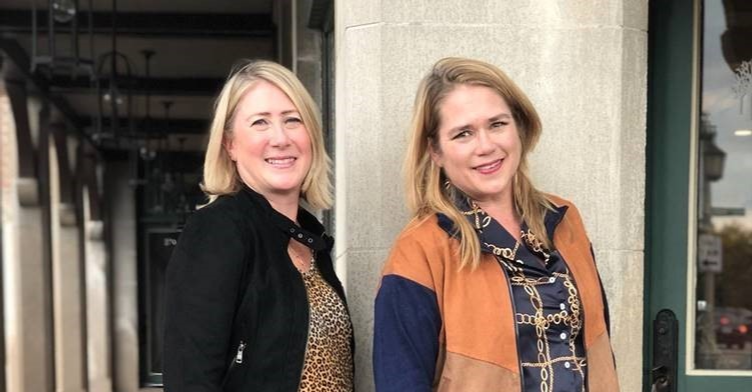 Cristina & Cara Garrison
Forest Bootery
284 Market Square, LF
The Forest Bootery is celebrating 70 years in Lake Forest! Stop by Saturday, November 30 during the Cocoa Crawl to say hello and see the latest styles and gifts.
Lake Forest/Lake Bluff Chamber: What is your role at The Forest Bootery, and how did you come to have that role?
Cara Garrison: The Forest Bootery has been in my family since 1976. My sister, Cristina, and I grew up working in the store. We were on deck, on hand all the time. Both my sister and I went off to college. My sister was a business fashion merchandising major and I was an art major. She graduated before me by a few years and was working in footwear at Cole Haan.  I got back and I was between jobs. This was around 1996, and my dad said, 'You know, I'm probably going to sell the store soon.' So my sister and I looked at each other and realized we needed to make a decision--because we really didn't want the store to just be let go. So, we came up with a plan to take over the store and we shared it with our father over breakfast in Highland Park. He said, 'Great. Perfect.'  That Saturday we came into the store with him and had a meeting with all the employees. My dad [pointing to my sister and I] said 'These are now the two owners of The Forest Bootery.' Then he turned around and walked out…and that was it! My sister and I are both very creative. She has always been the primary buyer, and I've been the primary visualist doing marketing and displays, and those types of things. But running a small business, we both wear many, many hats. In 2005 we opened a second location in Libertyville.
LFLBC: What is your vision for The Forest Bootery going forward?
CG: Unfortunately, traffic in Lake Forest has been down for us recently, and our Libertyville location is doing well.  But, despite so many things being available online, boutique shopping is actually up right now. We are considered a footwear boutique. I think it's time we shake things up here. Maybe we have to get the Bike Patrol back—it gave Lake Forest such a strong community feeling.
LFLBC: How do you give back to the community?  
CG: I grew up here. I went to Sheridan school. I graduated from Lake Forest High School. My parents still live in the house we grew up in near South Park. We are really rock-solid Lake Forest people, so we love to give back to the community. We donate to all the fundraisers in town. I want everyone to know that we love to be asked to donate…so don't feel bad asking! If you ever want to have a private party at my store, my store is your store--consider it home. I served on the Historic Market Square Association for years. And most recently, we've been helping put together the Cocoa Crawl happening this Saturday [November 30.]
LFLBC: What other local business do you work with?
CG: Oh, they are all my friends! Mary at Gerhards, the ladies at The Lake Forest Shop, the Book Store…we go way back. We also collaborate with groups in town…we do a shopping night for Mother's Trust.
LFLBC: What is one thing you want people to know about The Forest Bootery?
CG: We are probably some of the last people in the shoe business that really know shoes. I grew up going to New York when I was like 13 and meeting all the big designers. Not many retailers know that much about footwear. So that's our heritage. And we retailers are the middleman. So, when I see samples and decide what we're going to carry, when we get it, if it doesn't look good, or it is lower quality, I return it. But if retailers go away, that is going to be the consumer's headache. That's what worries me about retail…is that we do the checks and balances on the manufacturers.
LFLBC: What has been your greatest business initiative?
CG: We're always trying to fill a void for our customers. One example, when The Outdoorsman (which was huge in town, where everybody got their coats and Snowflake memberships) closed, we went after that business by carrying some of the things that they did. That has been our family Mantra -- trying to fill a void so that our customer wouldn't have to go anywhere but right here in town. We're all about being local, on 'main street' and being part of the community.
LFLBC: Is there anything else you'd like to mention? 
CG: We feel like we are the pillars of the community. We're among those who have been here the longest—there are only a few of us left. Taking over our father's business, we didn't want to run it into the ground!  My sister and I came in here and we knew enough about shoes from growing up in the business—it's been a natural calling for us.