Missy Crowe Poth - M on the Square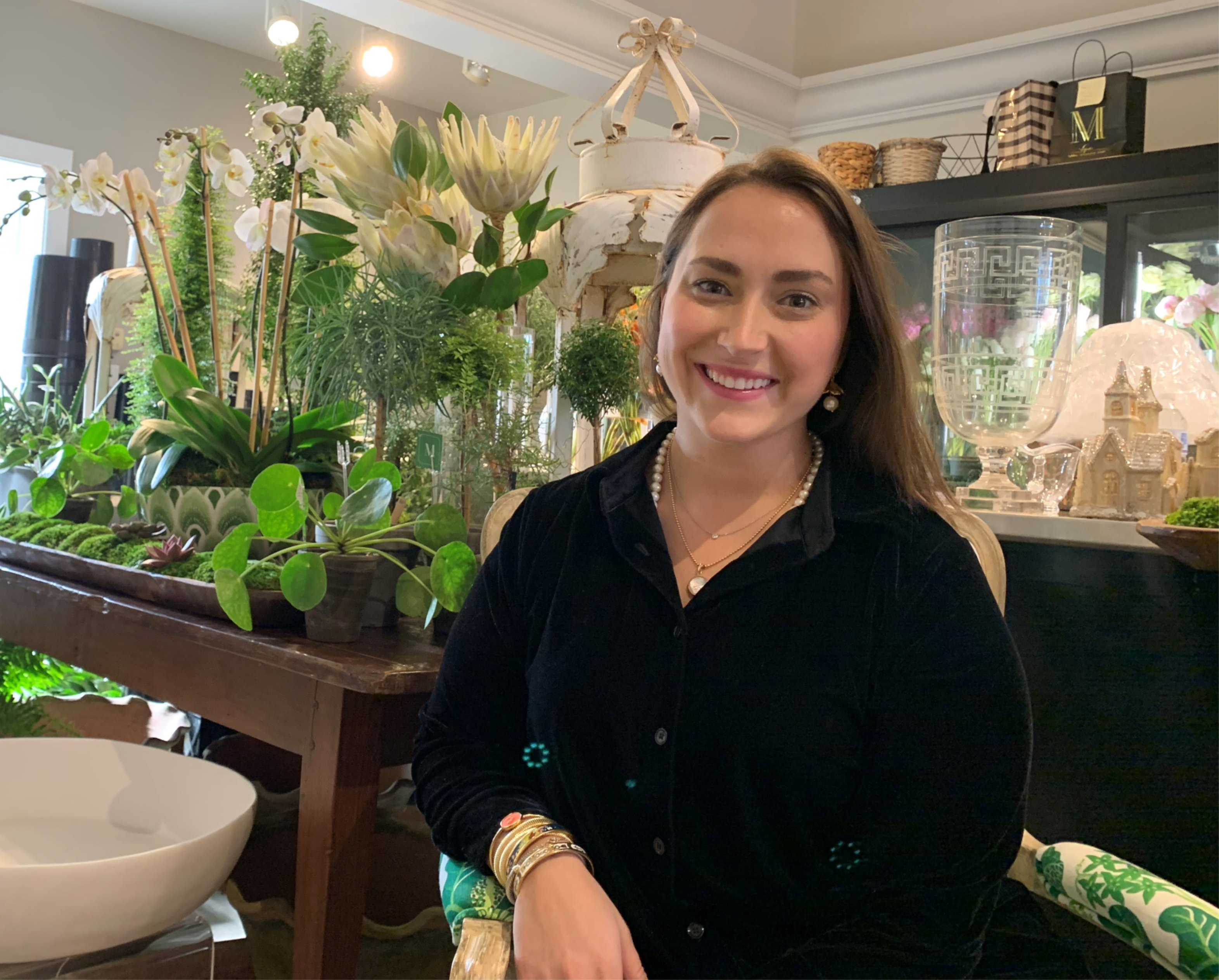 Missy Crowe Poth
M on the Square
259 Market Square, LF
Flowers. Occasions. Home.
Lake Forest/Lake Bluff Chamber of Commerce: Tell us about M on the Square and your inspiration for getting involved in the business?
Missy Crowe Poth: M on the Square was started by Molly Flavin a few years ago. I grew up in Lake Bluff and I met Molly at age 15 when I was working at The Winter Club as her kids' camp counselor. From there we built a really strong relationship, and one day she said 'why don't you come work for me?' At that point we were doing flowers out of her garage, and she taught me everything I know today. When I went off to college to Auburn University I worked in a flower shop there and majored in business management and then went on to The Flower School of New York and studied Wedding Design. When I graduated, Molly opened her shop and I managed the store for her.  Unfortunately, Molly got very sick and was unable to continue, and last year I bought the store from her, creating M on the Square, 'M' for Molly and Missy. I'm so blessed to be able to keep Molly's dream alive—it became my dream, too. [Sadly, Molly lost her battle with cancer in September].
LFLBC: What is one thing you want people to know about M on the Square?
MCP: We love when people just come in and want to create with us, especially now that the holidays are coming. With Thanksgiving and Christmas, everyone's entertaining and they want to spruce up their house or they want to have a really great centerpiece. We love when they come in with their ideas and photos. We love to figure out exactly what they want, and bounce ideas off each other. Don't be timid and think we know everything! We really want to work WITH our clients.
LFLBC: What is your vision for the store?
MCP: I love weddings. I just got married a few months ago myself. My big-picture goal is to really grow the wedding side of the business. We did seven weddings this year and we'd like to double that next year. A lot of people that I've grown up with from Lake Forest want to come back and get married here. It's  such a charming place to get married and have all your college friends and family members come here and stay at the Deer Path Inn.  It's just so charming, and I would love to work with all the different venues around here. I love the retail side of it too, but floral is our main focus and weddings have been huge for us this year.
LFLBC: What initiatives do you look to do that will have a positive impact on your business?
MCP: We want to help people get excited over entertaining in their home--whether it's a birthday dinner or an engagement party--we want to connect with our customers and help them set their table with the linens, floral and accessories that we carry. We also offer custom paper and invitations. I think some people are nervous to entertain, but I believe if you feel comfortable and confident, you'll be so much more relaxed at your party. Let us be your 'one-stop shop' for your entertaining needs, so that you can be the best host.
LFLBC: How do you give back to the community?
MCP: We really want to be a big part of the community. We do a lot of donations. I loved growing up here, so we support LFHS a lot…I went there and I loved it. We support school-related fundraisers, LFCDS, Catholic Charities and the Holiday Boutique.  Now as a business owner in the community, I'm loving being able to back to so many of the organizations that I grew up with.
LFLBC: What other local businesses do you work with?
MCP: We've worked with Lululemon, Market House, the Deer Path Inn, Elliestyled, Belden Interiors, Katie Ford, J.Crew, the Illinois Club for Catholic Women, and more. Also this year we're really excited to be doing all the floral for Mariani's holiday shop that's open for the next 5 weeks.
LFLBC: Is there anything else you'd like to add?
MCP: We are excited for the holidays and we have such new amazing things available in our shop. We would love everyone to come in and see if we can help them with her holiday needs. Happy Holidays!