Meg Steele - Woodlands Academy of the Sacred Heart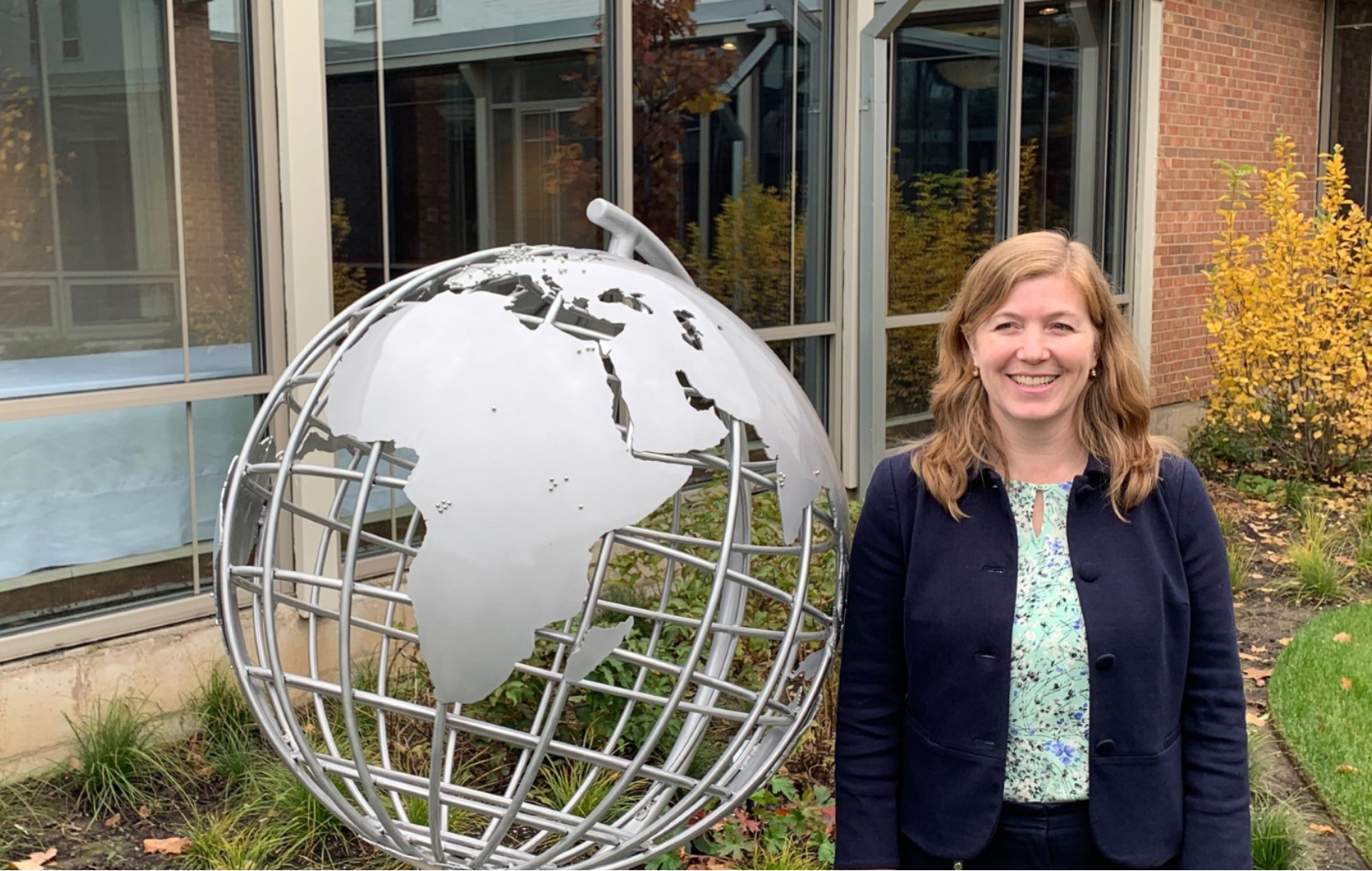 Meg Steele
Woodlands Academy of the Sacred Heart
www.woodlandsacademy.org
Woodlands Academy of the Sacred Heart, founded in 1858, is an independent, Catholic, day and boarding, college preparatory school for young women, grades 9-12, who wish to pursue a course of study committed to academic excellence within the context of a faith-based community.
Lake Forest / Lake Bluff Chamber of Commerce: Give us the brief history of The Woodlands Academy of the Sacred Heart and tell us about your inspiration for coming here.
Meg Steele:  Woodlands Academy of the Sacred Heart is part of a worldwide network of about 150 schools all over the world in about 45 countries, with 24 schools in the United States and Canada. We are founded on the values of a French order of nuns. We all operate under one common mission which we  express through our five goals: a personal and active faith in God, a deep respect for intellectual values, a social awareness which impels to action, the building of community as a Christian value, and personal growth in an atmosphere of wise freedom. We are a Catholic and independent school, and we consider ourselves a Catholic school for people of all faiths. It is a very rich place for faith development. We want young women to come out of here strong and informed of who they are on all of those fronts. It's a great place and we are linked to sister schools all over the world.
There are two things that drew me here. One is that mission--that very clear sense of educating students. I can't imagine educating students without attention to their whole lives in the way that mission represents—spiritually, intellectually, socially, in the context of community, and focused on personal growth. And two, is the fact that we're linked around the world to this really common sense of purpose and opportunity.  I spent much of my career at another Prek-8 Sacred Heart school in the city.  I was there for 18 years and I've been here for 5 years. After my years in childhood education, I was excited to see how that mission manifested itself in high school girls. I wondered, 'how does a deep respect for intellectual values look at 1st grade vs. 12th?' That's been one of the really fun things I've been able to experience--seeing kids that I have known since they were 5 years old, and seeing them now, just makes me feel even more strongly about the Sacred Heart mission.
LFLBC: What is your vision going forward?
MS:  Our tagline is 'Empowered Girls change the world to lead, compete, engage and explore.' The vision really is around continuing to help young women really understand who they are and the difference they make in the world. [We want them to understand that] everybody has gifts and talents that are all different and that's excellent. With those gifts comes a real responsibility to see how you can contribute in society. So, our vision is to keep bringing more girls in for whom that can be their experience.
LFLBC: What is one thing you want people to know about Woodlands Academy of the Sacred Heart?
MS: The real power of an all-girls education is not always well-understood.  Every leadership role and every opportunity in this building is occupied by a young woman. That's really powerful. Students come out of Woodlands so prepared and so solid in who they are. I think people worry that our students are sheltered, or they aren't ready for boys. It's quite the opposite. We could put any student up in front of a group and you will see a self-assured, confident young woman. That confidence comes from their really knowing who they are and knowing that they have value and responsibility.  They are wholly prepared in how to approach the world.
LFLBC:  What has been your greatest initiative?
MS: We have two. One initiative is our Center for Global Studies, which is a program built on the Sacred Heart relationships we already have around the world. Currently, we have several International students from Rwanda, Afghanistan, China, Mexico and Vietnam enrolled at Woodlands. We also send kids out on exchange all over the world. For example, one of our students just left for Taipei and she will live with a Sacred Heart family and attend the Sacred Heart school there. Conversely, there are always girls here from all over the world, but they're all Sacred Heart. So, you start from a place of this sense of Mission and community and home that's already in place.  Additionally, some students apply to be Global Scholars. They do extra course work, and a big capstone project, and it becomes a designation on their diploma. Then, there is a mini term at the end of the school year after second semester exam called Global Odyssey. It's a 10-day session when the entire school community participates in a variety of global activities. Students might go on a group trip abroad, participate in an individual exchange with a student from a Sacred Heart school in another country, or participate in a globally designed class at Woodlands.  For example, teachers have offered classes on interesting topics like international board games, international disability policy, and ceramics from different countries—to name a few.
Our second big initiative is called 'Imagine Yourself in the C-Suite' aimed at young women. We've had several female global business leaders present to our girls about their journey. This came from the fact that there are not as many women in the top positions in finance, technology, science and engineering. We just want them to share their journey so that our girls can learn from them—how to take risks and try things to get to where they want to. It's great exposure to those role models. It really fits with our mission to empower girls.
LFLBC: Are there any other businesses or organizations within the Lake Forest/Lake Bluff area that you work with?
MS: We have really nice relationships with lots of different groups. The Lake Forest/Lake Bluff Chamber of Commerce is holding their annual fundraiser in our beautiful Conference Center here. We did a program with the History Center of Lake Forest & Lake Bluff. Recently we connected with the League of Women Voters for a registration drive here for our students who will be eligible to vote, and of course we are a polling place. Hansa Coffee gives a lot to us as well. We've partnered with many of the local arts organizations. One of our Global Odyssey classes this year will be taught by authors from Ragdale. Some of the theater groups also use our facilities. And we have many wonderful relationships with others in the area. We take very seriously our stewardship of this beautiful piece of property and Mariani Landscape has been very wonderful partner with us in maintaining it.
LFLBC:  How do you give back to the community?
MS: We do a lot of service--that's one of our tenets. Currently one of our students is collecting books for Bernie's Book Bank and that's just an example of a moment in time. There is always something going on in terms of giving back. Additionally, we love to share our facilities with others. And we have 'The Quiet Trail' on our property that is open for people to use and enjoy. It was dedicated by Susan Saint James (a Woodlands alum) in honor of her son Teddy who was tragically killed in an aviation accident. As you walk, you'll see some of his favorite inspirational quotes. One thing she valued about her time here was that cultivation of quiet contemplation to listen to that inner voice and connect with God. And so she named it The Quiet Trail in hopes that people would use it for that purpose. We strive to be good community partners and good neighbors. As previously mentioned, we strive to be exemplary stewards of this beautiful property and to share its natural beauty with others.
LFLBC:  Is there anything else you'd like to share?
MS: We would like people to know that an education here is accessible and we try to ensure that socio-economic status is not a barrier to attending Woodlands Academy. Some people assume that we are inaccessible, and that is just not so. We serve incredibly diverse group of students in every way. Additionally, we love partnering with the community and are always open to new ideas. Come visit!