Trey Gonzales & Kip Helverson - Smith's Men's Store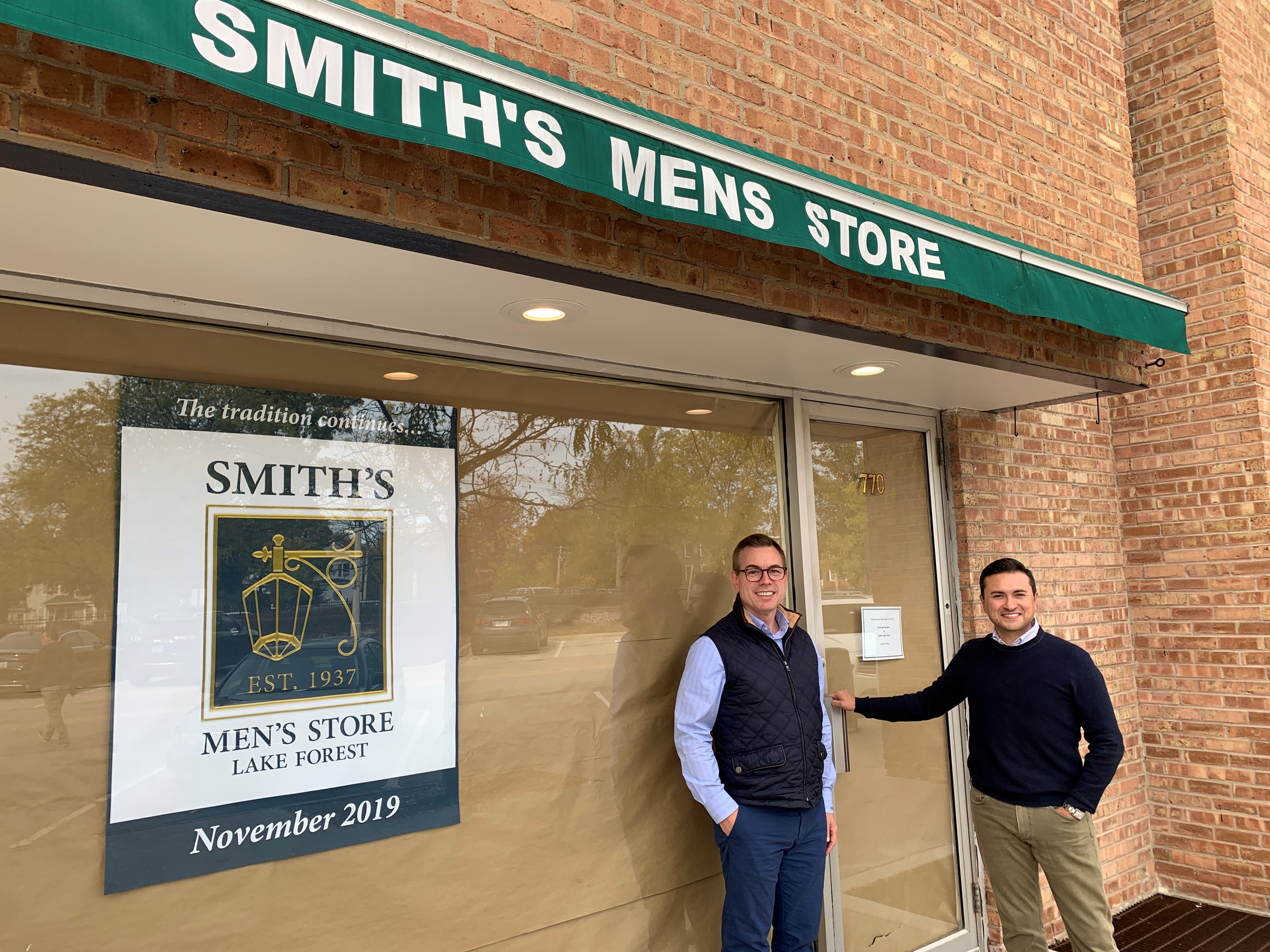 Trey Gonzales & Kip Helverson
Smith's Men's Store
770 North Western Avenue, LF
Updated and remodeled, Smith's Men's Store is re-opening Saturday, November 23 under new owners Trey Gonzales & Kip Helverson.
Lake Forest/Lake Bluff Chamber of Commerce:  Tell us about yourselves and your inspiration to re-open Smith's Men's Store.
Kip Helverson:  I've been in the software technology business much of my career, but Trey and I have talked about doing something entrepreneurial together at some point in our lives. When we heard about Smith's coming up for sale, that got our attention.
Trey Gonzales: I come from the interior design industry and I managed a custom lighting showroom at the Merchandise Mart.  I'm not from the fashion industry, but my past experience definitely overlaps with fashion. I wanted to move more of my life up here and not have one foot in the city and one in Lake Forest.  Essentially, I left my career to reopen Smith's. Now, I'll be living in town and working in town.
LFLBC: Do you have any prior ties to Lake Forest?
KH:  I grew up in the Village of Golf, and I always thought of Lake Forest as one of the most beautiful areas in Chicagoland. Trey and I have a love of architecture and design, and we would come up for the Infant Welfare Society Showhouse. Many times, we would come up on a Saturday or Sunday for brunch to look at the architecture.  When we decided to leave the city, Lake Forest was really high on our list of places to look. We ended up buying an historic Stanley Anderson home here two years ago, and we just love Lake Forest.
LFLBC: What is your business vision for Smith's?
KH:  It's twofold--to serve the needs of the gentlemen of Lake Forest and Lake Bluff, and to keep Lake Forest a weekend destination for people living outside of our community.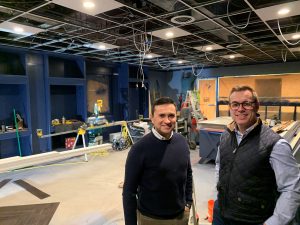 TG: We would like the families of the North Shore to count on Smith's as their go-to place for clothing, gifts, formal wear rentals, and more.
LFLBC: What is one thing you want people to know about the new Smith's Men's Store?


TG: When people walk in, we want it to feel familiar, but look new.
LFLBC: What will be your business focus?
TG: We want it to be more of an interactive experience when customers come in. We are looking at having more events in the store to draw people in. We're going to expand into some new lines beyond clothing and accessories, such as men's gifts and apothecary items. We've been hearing from the community that they would like us to carry men's gifts. So, we're going to have wallets, key fobs, business card holders, masculine scented candles, fragrances and skincare.
KH: We want to promote the lifestyle of Lake Forest and Lake Bluff. We'd like to promote this as a Lifestyle Brand, not just a clothing store. Our look will remain classic and traditional, but also be current. We didn't come to Lake Forest to change it, but to promote it. We have been so impressed with the people we've met here--the courtesy, the manners--it's just refreshing in this social media world where things can be so abrasive and coarse, we have found Lake Forest to be a very polite area.
LFLBC: Are there other local businesses or organizations that you currently work with or any that you'd like to work with?
KH: We're open to working with everyone. We had a great discussion with Matt Barba at the Deer Path Inn…they are so grateful we're re-opening. They asked us to please stock extra black bow ties [for their guests who need them for special events] so, we'll do that!
LFLBC: How will you give back to the community?
TG: We look forward to hosting events in the store, such as shopping events benefitting charitable organizations.
KH: Part of our drive for reopening Smith's is to give back to this community. We didn't want to see another small business close and wanted Smith's to continue being a part of the local culture.
Trey and I are both philanthropic--we still do a lot of board work with organizations in the city. That's just how we're wired. Now that we're in Lake Forest, we're gradually moving our lives more and more up here.  Trey now serves on the Lake Forest Preservation Foundation Board of Directors and the Arts & Culture Council of Gorton Community Center. We're also members at The Church of the Holy Spirit.
LFLBC: Is there anything else you'd like to share?
TG: We want to mention that the former owner, John Tadel, will be advising us for a while. He's been a great support through the whole transition process. So, when people come by the store, they'll be able to still see him. He's happy about us taking it over—he said he's proud to be passing the torch to us.
KH: We are investing in Smith's for the long term and we're not leaving any time soon. We have been embraced here and we think Lake Forest is a wonderful place.