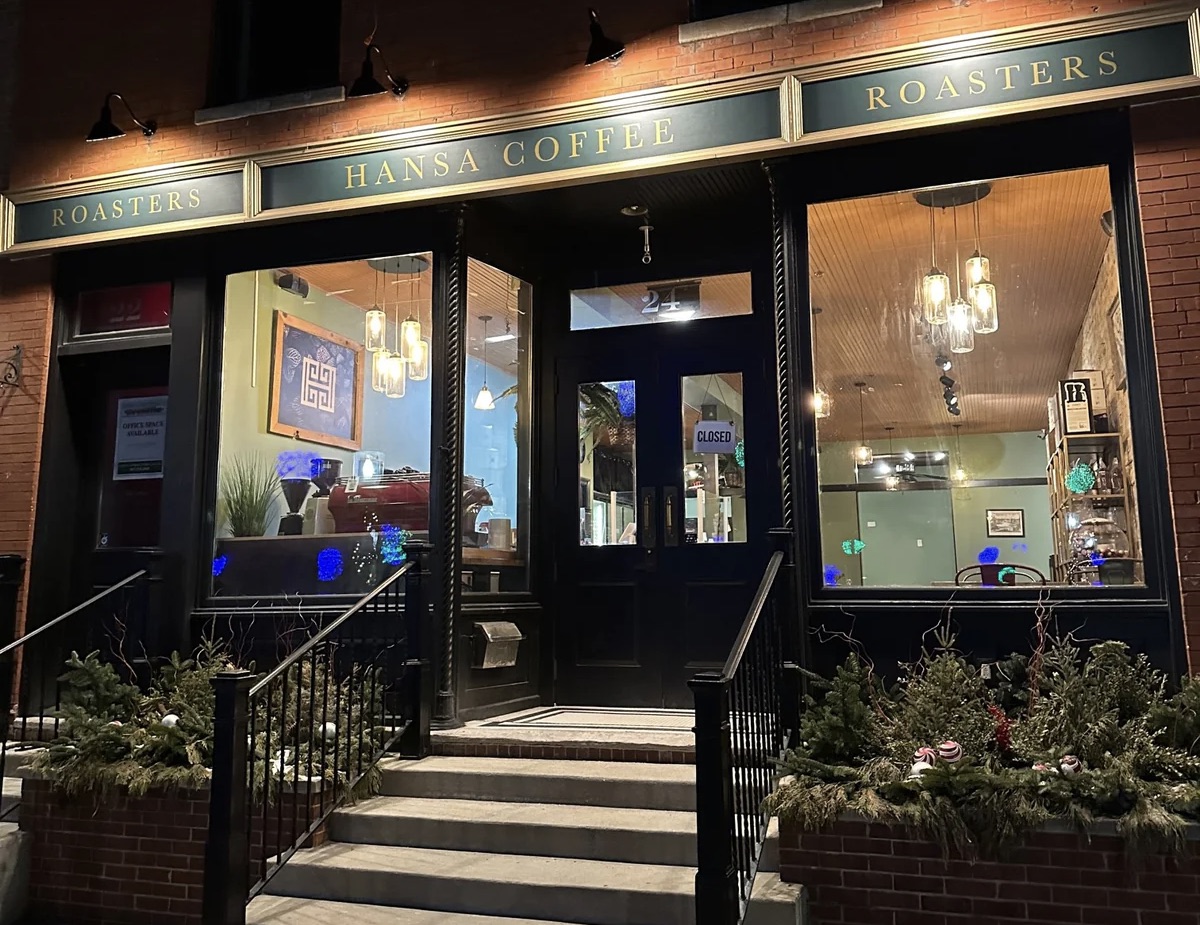 Member Spotlight:  Tom Maegdlin, Chief Operating Officer, Hansa Coffee Roasters
Lake/Forest Lake Bluff Chamber:  Tell us a little bit about Hansa Coffee Roasters and what makes your business unique?
Tom Maegdlin: I spent most of my childhood fascinated by coffee and most of my adult life working in it. At 23 I went and did what I thought all responsible young men did; I went into finance. Those few years I spent behind a desk made one thing clear to me. I missed roasting coffee and sharing coffee with my friends and neighbors. In 2013, my business partner Kevin Kane and myself took what cash we could scrape together and started Hansa Coffee in a converted auto repair shop in downtown Libertyville. Before we attempted it, the idea of a specialty coffee roaster in the suburbs was not something a lot of people would take a flyer on. Through very good sourcing of coffee, a great training program and even better staff, we quickly grew into the company you know today. We import container-quantities of coffee from small, family-owned farms throughout the world. We are able to compete with much larger, much better capitalized national retailers by sticking to our principles of quality and value. We employ 32 members of the community and you can find our coffee all over North America. Not only is our coffee used in some of your favorite local restaurants, it can be found in cafes as far away as Seattle, Austin, Dallas, Phoenix and Atlanta.
LF/LB: What inspired you to open a Lake Bluff location?
TM:  I have always loved downtown Lake Bluff. When the opportunity presented itself to move to a more prominent location in the Village Market building from our space on Walnut (that is now Toned Yoga) we jumped right on it. I love Lake Bluff Brewery and Mavery's as well, and it has been great being their next door neighbor instead of their "around the corner" neighbor.
LF/LB: What is your vision or hope for the future of your business?
TM:  Hansa is a retailer of rare, hard to find single estate coffees that represent some best expressions of quality in our industry. For me, I see a future where we are now able to focus on wine and ingredients for our food program that provide the same level of quality for our customers. Our food and wine program has been very well-received so far and I am enjoying seeing my friends and neighbors enjoying our new selections.
LF/LB:  How does Hansa support and give back to the community?
 TM:  We are happy to donate coffee to local organizations all over the North Shore. From PTA's to the Gorton Center, we have been proud throughout the years to caffeinate volunteers and other folks in the community who donate their time for great causes. We just recently supported the "Plants for Cans" event that raised over $14,000 for local food shelters. We also recently have been working with the Great Lakes Archeological and Archival Institute which is a new organization that is doing great work preserving artifacts and heritage of the Great Lakes.
LF/LB: Is there anything else you would like to share about your business?
TM:  I spent most of my November and December building the new Hansa in Lake Bluff. When you come in you'll notice a lot of wood. I intentionally built the entire store including the tables by hand from wood exclusively from the Great Lakes watershed. I wanted to create an authentic experience that had the heart and soul of our region. I am always looking for local artists to feature so if you're looking to showcase your work, please contact us at info@hansacoffee.com