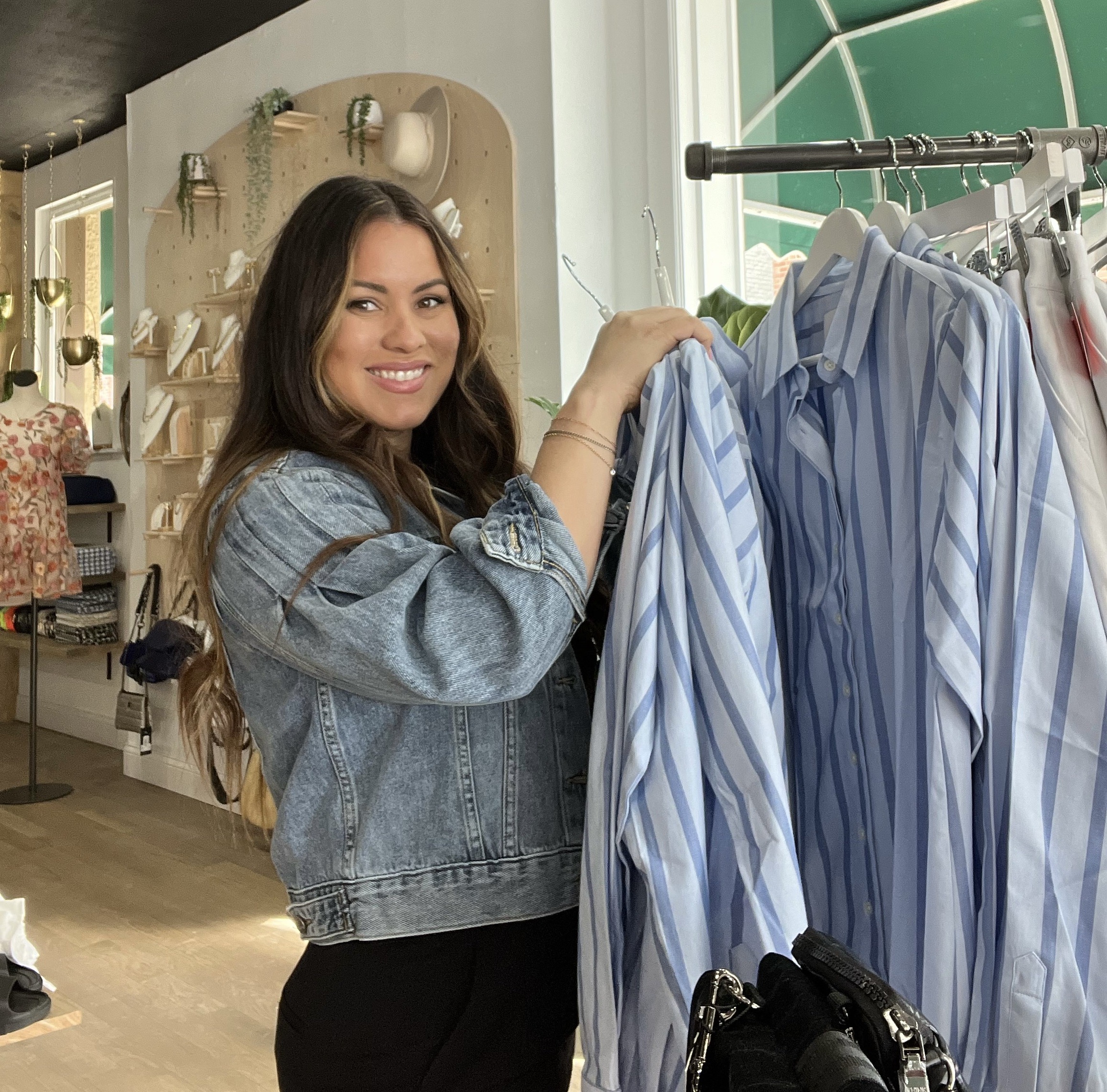 Member Spotlight: Crystal Gambill, Owner/Buyer, Blu Violet Boutique
Lake/Forest Lake Bluff Chamber:  Tell us a little bit about Blu Violet Boutique what makes your business unique?
Crystal Gambill:   As a nurse by trade, becoming a boutique owner was a hobby, something fun to do on the side. It all started in a tiny town in the middle of the Big Island, Hawai'i, where I was born and raised. Quickly it became a favorite boutique of many locals state-wide and led me to open several other stores on the island. After a few years, my husband, 2 children (now 5 and 15), and I decided we needed a change and we wanted to experience seasons. I knew moving to Illinois would be a challenge and opening a boutique here would be the greatest of that challenge, not knowing how to dress for seasons, after living my entire life in bikinis and sarongs.
Blu Violet Boutique is a unique business in a way of offering brands that support all ages. I try my best to bring in brands that offer community assistance to charities in need. I want a feeling of ease when coming into my stores, a personal experience to help you feel good about yourself, because when we feel good about ourselves, we are motivated, confident and happy.
LF/LB: What inspired you to open your Lake Forest Location?
CG:  I love that small town feel. After moving to Illinois, I drove around a lot, checking out different towns, getting a feel for areas that I felt could use something new, and with my niche, would be successful and helpful to the community. I fell in love with Lake Forest, I loved that it has a small shopping district with a community that supports small businesses.
LF/LB: What is your vision or hope for the future of your business?
CG:  I hope to become a fashion guide for the community. We value our customers and want to continuously bring in the newest styles and designs along with quality and value. We are committed to offering great service and with that we will grow our customers and hope to always provide a one-of-a-kind experience, inspiring connectivity. Our mission is not to just make you look good, but help you FEEL good.
LF/LB:  How does Blu Violet Boutique give back to the community?
CG:  I am supportive of charity based and purposeful brands, schools and community-based fundraisers. I most recently donated all proceeds of sales from the brand Mayfair Group, a meaningful, mental health uplifting company, to Libertyville Health and Mental Wellness. I'm hoping other organizations will reach out in need of support as well.