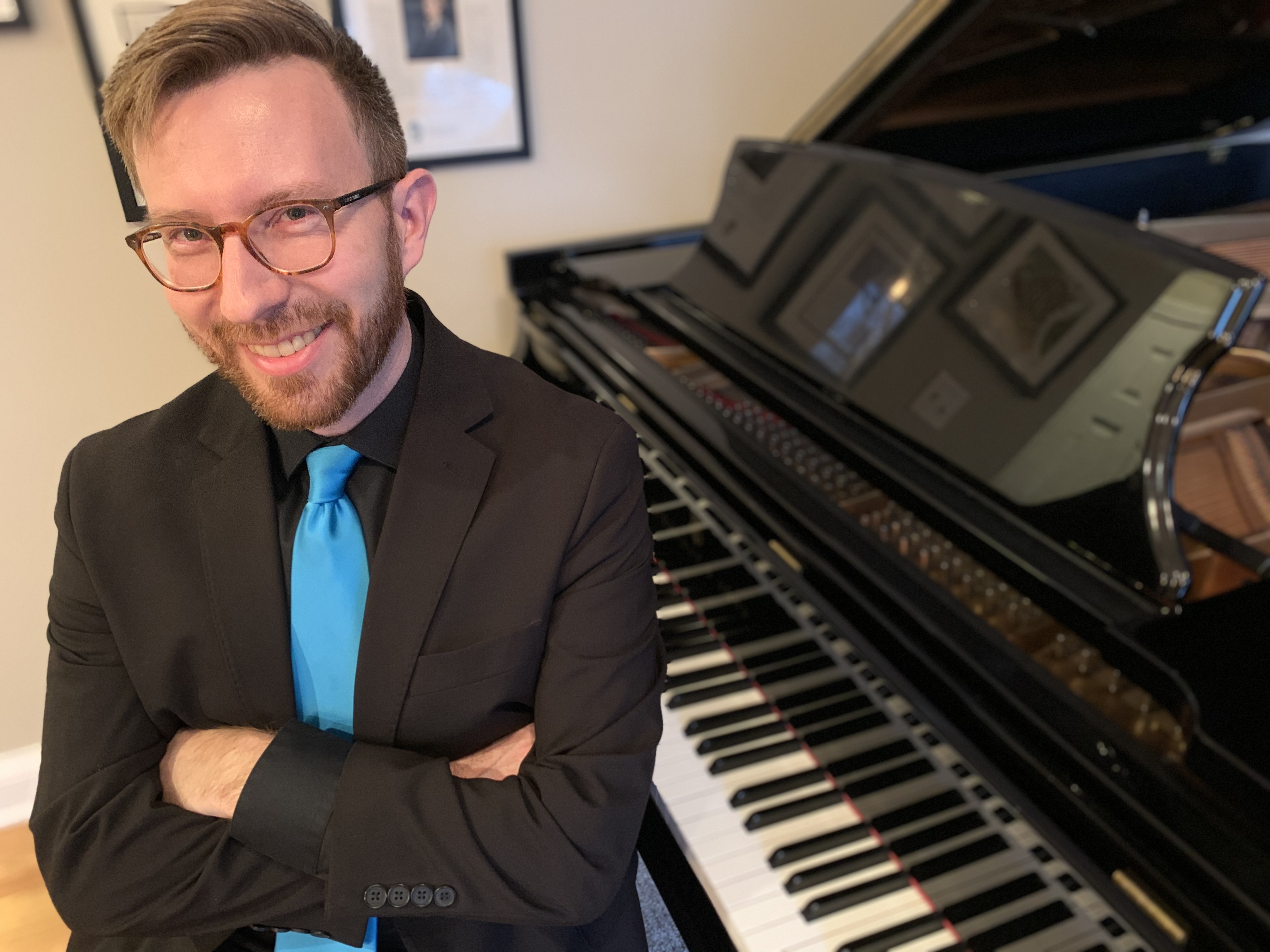 Member Spotlight: Patrick Godon, Artistic Director, International Chamber Artists
Lake/Forest Lake Bluff Chamber:  Tell us a little bit about International Chamber Artists and what makes this group of musicians unique?
Patrick Godon: The International Chamber Artists (ICA) developed after a number of successful concerts of a smaller scale were performed and were well attended. The vision of ICA was to build on this momentum and present concerts with highly skilled musical artists. ICA concerts are experiences that feed off of the sheer energy of performance and showcase a variety of music. A prepared script precedes some of the chamber music selections that highlight themes of the composition. The group is called "International" because we aim to bring awareness to the world about the compassion and human experience of chamber music and the arts. Some ICA members come from other countries. We have three Chicago Symphony Orchestra musicians on the roster of ICA. We regularly have the best musicians in the Chicago area playing at our concerts.
Committed to live performance that meets the highest standard of artistic excellence, ICA musicians make the richness and complexity of chamber music accessible to audiences of all ages and backgrounds. ICA members bring exceptional energy to their work. Each is driven by a love of music but also by a commitment to ensuring that chamber music--which has difficulty attracting and maintaining audiences--will be alive and well decades from now. ICA musicians have trained with master teachers and play with the world's great ensembles and orchestras. As leaders of the next generation of concert musicians, we are committed to the Lake Bluff/Lake Forest area as a place that offers chamber musicians many resources--not the least of these being audiences that are eager to experience top quality performances.
LF/LB: Tell us about your role as Artistic Director and what inspired you to pursue a career in music?
PG:  Since the age of about five, I knew I wanted to be a musician. I remember seeing one of my older sisters practicing passages of running 16th notes. I remember thinking, "One day I'll be playing piano with all those notes in it, too!" For me it has been a blessing to have known from that young age what I wanted to be when I grew up. While my parents were a bit skeptical of a career in music, I was sure. I studied at DePaul University with master teacher Mary Sauer. At that time she was the principal pianist of the Chicago Symphony Orchestra. When I graduated with my masters in 2003 she told me, "I'd like you to join the Union now, because I'd like to start using you with the big orchestra." So I started playing with the CSO in 2003 and learned directly about music making on the highest level. When she retired in 2016, I became one of the acting principal pianists with the CSO, a dream job which I enjoy to this day.
In my role as ICA Artistic & Executive Director, I coordinate each concert from planning the programs to hiring the musicians. When making program selections I consult the diverse musicians of ICA, who, when they perform, share their love of music from various composers. To foster diversity in concert repertoire and performers, we program a variety of works – from well-known to rarely performed works, baroque to contemporary. I am supported by administrative volunteers, a marketing coordinator, a grant writer, a program annotator, and five board members. Because ICA now performs in Lake Forest, we have also expanded our operations staff to include volunteers from the Lake County area, including parishioners and choir members from The Church of the Holy Spirit, our host institution.
Also, I thought I'd share a random list of things that I've found important as ICA Artistic and Executive Director, in case someone out there is interested in starting their own group:
- If you are serious about forming a group, you will need to immediately file your Articles of Incorporation, then apply for an FEIN#, and for 501(C)3 non-profit status with the IRS. This process may take awhile and is meant to deter people that aren't serious.
- You must have a season brochure. It took us 3 years before we had one. It takes a lot of strategic planning and thinking ahead.
- Programming is very important. Your concerts should have a title to attract people's eyes. You will also need to coordinate the group members for photo shoots for your posters, programs and other marketing materials.
- You also need to find a brand for the organization. A logo helps immensely with that.
- Finding a place to perform is tricky. Ideally you want to be somewhere where there is a need for you to be playing and where people may know you or know of you. You should have a home base where you do a majority of your concerts, and then do run out concerts elsewhere. In our case, since I'm a pianist, I always need to make sure the venue has a great piano as well.
- Marketing is job #1. If no one knows about you no one will come and listen to you play. It doesn't matter how good the group is. We currently have hired someone to help us with marketing. She does evites, facebook updates, twitter quotes, sends out press releases and helps to get the word out about our concerts. You will also need a website that is updated regularly.
- You need to get a lot of people behind you in order to have a thriving organization. If you try to do it yourself you will burn out quickly. Recruit volunteers, coordinators, and be willing to take the help of anyone willing to offer their skills.
- Another way that I avoid getting bogged down by other people's ideas (and people will have a LOT of ideas for you and your organization) is that I encourage them to investigate further any suggestions they may have and report back. That gets them involved and you involved only later when there is something more concrete for you and the board.
- Your board shouldn't just be warm bodies, you should look for people to serve on your board of directors that have skills that fit the needs of your organization. There is a form to board meetings, and you will need to elect a board president, secretary and treasurer. When you start out you need a working board, and the more established you get the more the board can just make decisions, and your volunteers can help carry out the grunt work.
- Define for yourself and then for your mission why it is that you want to start an organization of your own. There are enough groups that just get up and play the music through. Find something to distinguish yourself from other organizations and then market that. It will be much easier to get others behind what you are doing if you are behind it from the start.
- You will need other sources of income other than concert donations/tickets. You will need to apply for grants and have an annual benefit. You will probably have to pay a grant writer unless you know someone that would do it for free.
- You will need to keep good records of your budget and file forms each year with the IRS and the state.
LF/LB: What is your vision or hope for the future of International Chamber Artists?
PG:  Live performance requires that at least two people be present--one to perform, one to listen and watch. It cannot be a solitary experience. ICA's commitment to live performance is first a commitment to a quality of sound that cannot be captured on a recording. But it is equally a commitment to a unique kind of human experience--the shared, interactive, mutual experience of performance. This is one of the most basic human experiences, one that is belittled or imperiled when people experience music as a consumer good, to be consumed in solitude, rather than something to be produced and shared. There are many obstacles to becoming a professional musician. Those of us who have chosen to make careers of music have done so for our own individual reasons. One reason we share is that we simply cannot be without the experience of live performance. We cannot have that experience without the audience. Audiences are a critical component to making the performance. We hope many extraordinary people will become partners of ICA in the cause of music, and we look forward to their support as we continue on our journey.
Part of our mission is forming partnerships with communities and organizations. Past partnerships include:
Commission based on Susan Licciardi's Bars & Barns poetry and pictures, inspiring the music to composer Eric Malmquist's If You Travel Far Enough
Commission based on Marcella Mencotti's grandfather's WW1 diary for Brian Baxter's Ho sentito di una terra distante
Commission based on Sally Wolf's moon drawings and observations, inspiring Patrick Godon's Wolf's Moon
Quest Theatre Ensemble for The People's Passion Play
Chicago Urban Dance Collective for Stravinsky's Rite of Spring
Six Visual Artists for Mussorgsky's Pictures at a Chamber Music Exhibition
And this season to commission Lake Forest composer James M. Stephenson's first opera, in partnership with librettist Matt Boresi Cåraboo
We hope to continue forming partnerships and connections in the future!
LF/LB:  How does ICA support and give back to the community?
 PG:  There is much talk today in the arts world about the need to reach "underserved" communities. Typically, this refers to communities that are economically challenged. One of ICA's founding goals is to provide musical performances and education free of charge for audiences--especially of children and youth--that might otherwise have little access to chamber music. So all of our concerts at the Church of the Holy Spirit are free admission, with a suggested donation. But ICA construes "underserved" in broader terms. Someone who comes to a concert full of energy, enthusiasm and a love of music but with no knowledge of how a composer conceives of and constructs a piece or of how musicians analyze and interpret the piece for performance is "underserved." ICA believes that knowledge of music only increases enjoyment. This belief is at the root of the organization's commitment to linking performance and education in a dynamic, engaging way. It is ICA's hope that our performances will build an ever more perceptive and receptive audience--the audience of tomorrow. Because it involves a relatively small group of musicians, chamber music is especially well suited to this kind of exploration, which would be more difficult to undertake with a full orchestra.
Community outreach is a focal point of ICA's mission. This is demonstrated by our annual Family Concert. This program brings the musical artistry of ICA directly to children. A forty-minute musical program presents a variety of music with interactive narrative that introduces children to live music making and listening. A question-and-answer format also helps to satisfy young listeners' curiosity. This year we will explore music with the children through the works of women composers.
LF/LB: Is there anything else you would like to share about International Chamber Artists?
PG:  We've begun a series of four concerts as of last year called the ICA Steinway Soiree, an intimate concert at our beautiful new Lake Bluff home featuring ICA musicians. This is an extremely limited ticketed event (20 people) and provides an incredible chance to hear these world class musicians in a casual, intimate environment. Delectable heavy appetizers are served, along with an exquisite dessert, and wine. Consider attending and learn more at our website www.ICAmusic.org.
This year, we will enjoy exploring and educating our audiences with the repertoire of our 2022-23 season Celebrating Women Composers. There is a wealth of music from women composers, and it is long overdue that our audiences experience music of women composers on our ICA programs. Each program this year will have music by women composers. ICA has also commissioned a comic chamber opera by our Composer-in-Residence James M. Stephenson and librettist Matt Boresi. It will be unveiled at a much-anticipated world premiere event on June 11, 2023! If the world has you down, then this little comic opera will uplift you. A true story of a cobbler's daughter and servant girl inspired this funny and romantic comedy. This story examines fascination, obsession, and desire, as one woman seeks to creatively cast off the fetters placed on her by society. Also on the program is a violin sonata dedicated to Mendelssohn's daughter by Ethel Smyth, a woman who overcame the constraints of her middle-class English background by open rebellion. This is a profound work with tonal color at its core. We were also excited to present a new chamber ensemble arrangement by Cliff Colnot of Strauss's Four Last Songs in October. We are honored to perform a series of five concerts each season as Resident Chamber Ensemble at the Church of the Holy Spirit in Lake Forest, available to be livestreamed free of charge. As always, donations are gratefully accepted. We hope to see you at our concerts soon with your family and friends!