2023 Summer Sale Celebration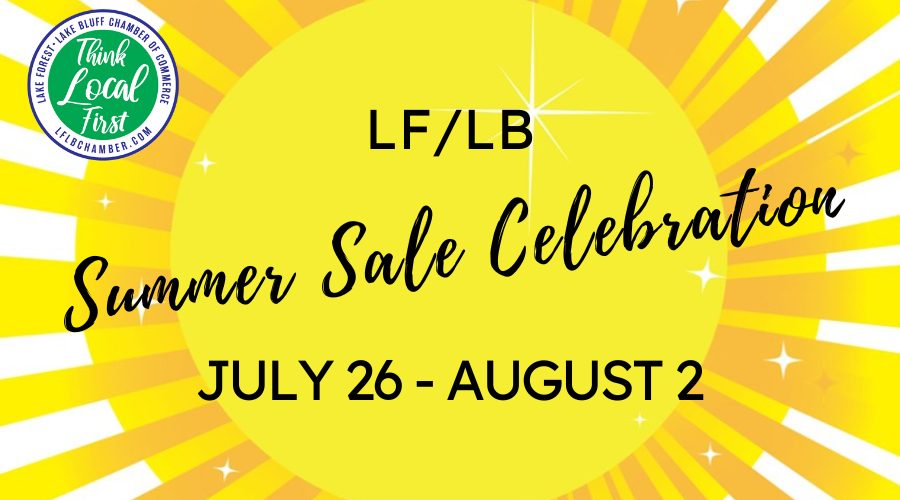 Enjoy SIZZLING summer savings, specials and fun!
Be sure to keep checking back for an evolving list of updates featuring our area's wonderful stores, restaurants and favorite businesses!
ABLAZE Design Group
259 Waukegan, Ave., Highwood
www.ablazedesigngroup.com/promos/
Discover incredible savings at ABLAZE Design Group during LFLB Sidewalk Sale! Enjoy 40% off ALL Annie Sloan Paint Products with code #BYEBYEANNIE and 20% off everything else with code #LFLBSALE. Shop in-store or online for home decor & furnishings. Let us bring your vision to life with these fabulous promotions!
Bedside Manor Ltd.
192 E. Westminster, LF
www.shopbedside.com/
The summer celebration starts now! During the month of July, come into the store, enjoy viewing the fashionable, yet timeless selection of sophisticated linens and home décor, and register to win two iconic Leaping Leopard beach towels by Matouk (a $200 value – no purchase to win!). Winner announced 7/31.
Britt Carter & Company
1350 S. Skokie Highway, LF
www.brittcarter.net
Britt Carter and Co. is celebrating 43 years in business with this annual "Anniversary Sale" where there will be mark downs of select floor samples from 50-80% MSRP July 27th-Aug. 5th. Open 10am-5pm Tues-Sat.
College Hunks Hauling Junk & Moving
1930 Innovation Way, Libertyville
http://chhj.com
College Hunks Hauling Junk & Moving would like to help you get your home summer and fall ready by offering a 10% discount** on junk removal services. If you were waiting to tidy up, now is your chance! Contact CHHJ at 224-358-4454 (**Please note: Offer for bookings 7/26-8/2 only).
DMK Metal
717 Forest Ave., Suite 230, LF
www.dmk-metal.com
$50 Starbucks or $50 Amazon gift card when you meet with us to sell your unwanted gold and silver jewelry, flatware, coins or other items. 
Elements Massage - Bannockburn
2519 Waukegan Rd., Bannockburn
https://elementsmassage.com/bannockburn 
Summer of self-care special -- stock up and save! Up to $30 off gift cards for massage.
Enaz North, LTD
760 N. Western Ave., LF
www.enaz.com
ENAZ is doing 1/2 off the lowest price (up to 80% off) -- huge savings! Outdoors on July 28-29 from 10-4:30 and indoor July 30-Aug 2, same time except Sunday 11-4.
Fitzpatrick School of Irish Dance
www.Fitzpatrickschoolofirishdance.com
New dancers who register between July 26 and August 2 qualify for 20% off fall session tuition ($44 savings)! Please register as a Bigginner Dancer (Level 1) on Wednesdays or Saturdays. More information and to register: www.Fitzpatrickschoolofirishdance.com. 
Flotstone, LLC
57 E Scranton Ave., LB
https://flotstone.com/
Susie & the Flotstone Team are ready for the Summer Sale Celebration with some merchandise 25-50% off -- and gift certificates are always available for intro floats, saunas and personal packages!
Gorton Center
400 E. Illinois Rd., LF
https://gortoncenter.org
During the Summer Sale Celebration, purchase admission to all three Family Summer Weekend movies for $5/person!
Thursday August 10 – A League of Their Own
Friday August 11 – Encanto (co-presented with the Lake Bluff Library)
Saturday August 12 – Ferris Bueller's Day Off
J. McLaughlin
261 Market Square, LF
www.jmclaughlin.com
Celebrating with up to 70% off of Spring and Summer Merchandise!
Lake Forest Book Store
662 N Western Ave., LF
www.lakeforestbookstore.com
Sale tables at 50% off both inside and out throughout the week along with surprise raffles and giveaways!
Lake Forest Flowers
548 N. Western Ave., LF
www.lakeforestflowers.com
20% off seasonal gift and home decor; including planters, vases, soaps, candle holders & more. With every purchase during the sale be entered into a raffle to win a fresh floral arrangement for pick up on August 4th.
The Lake Forest Shop
265 E Market Square, LF
http://thelakeforestshop.com/
Select merchandise up to 70% off + buy a bag for $100 and fill it to the top (from select racks of merchandise)!
Light Drawn Studios
253 Market Square, LF
https://www.lightdrawnstudios.com/form/lake-forest
Light Drawn Studios of Barrington is pleased to announce the opening of a second location in Market Square. Located just above Talbots, they are celebrating their arrival by offering complimentary children and family portrait sessions to those who register during the Summer Sale Celebration (use link above).
Lush Life Jazz
www.Lushlifejazzmusic.com
Sale prices on CDs and other items and available for special events
North Shore Bin Cleaners
www.NorthShoreBinCleaners.com
Use referral code CHAMBER23 for $15 off your first bin cleaning – and enter a drawing to win a one-time bin cleaning of up to 3 bins (hot steam clean with citrus scent of garbage & recycling bins)
Oaken Bistro at The Forester Hotel
200 N. Field Dr., LF
www.theforesterhotel.com
Enjoy a complimentary appetizer with an order of two entrees.
The Optometrists of Lake Forest
510 N. Western Ave., LF
http://www.theoptometrists.com
25% off prescription sunglasses (excluding Maui Jim and Oakley)
Perfect Promotions
www.perfectpromotions.net
Riding coolers – battery and gas powered – what a great, fun ride!! (Check out RidingCoolers.com)
Vintage Magnality Fine Jewelry
https://vintagemagnality.com/
20% OFF our entire website with code LFDAYS20 (enter it at checkout) – and enter the DRAWING on the website for a $250 gift card by signing up for a newsletter and/or SMS enrollment during the dates of the event. Check Instagram for details and drawing winner info at https://www.instagram.com/vintagemagnality/ 
Be sure to keep checking back for more updates as we head up to the sale!
(Updated 7.24.23)