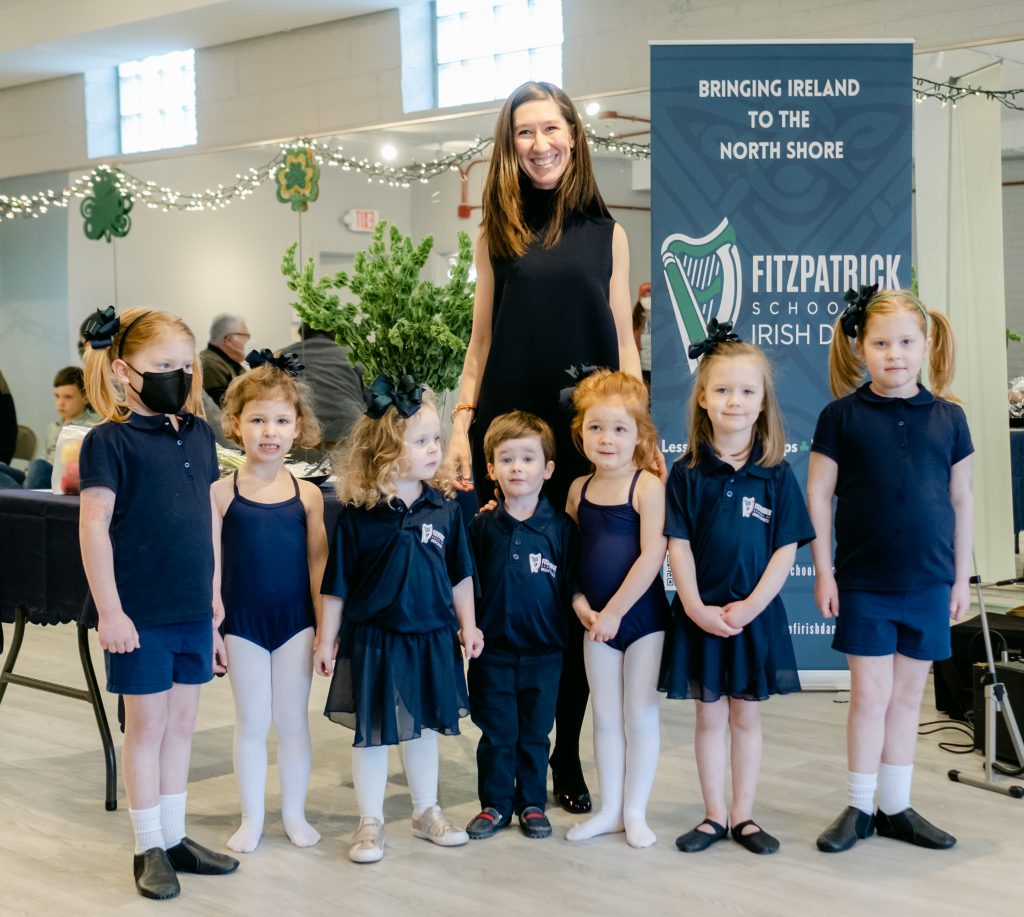 Member Spotlight: Katie Fitzpatrick, Owner, Fitzpatrick School of Irish Dance
Lake/Forest Lake Bluff Chamber:  Tell us a little bit about Fitzpatrick School of Irish Dance and what makes it unique?
Katie Fitzpatrick: We are a new Irish dance school that opened earlier this year in downtown Lake Forest. We take a modern approach to Irish dance, and our mission is to empower our dancers with the skills and confidence to learn, perform, compete and, above all, bring joy to others through Irish dance.
Our school is designed to be more than just a dance school – we strive to serve as a touch of Ireland in Lake Forest. I leverage my own ties to the Irish community and bring that into the school as much as possible. These connections and the community that we are building is what makes us special – and so much fun!
LF/LB: What inspired you to open Fitzpatrick School of Irish Dance?
KF:  Irish dance is a highly competitive sport with a strong presence in Chicagoland, so opening my own school was not a decision I took lightly. I grew up dancing for and subsequently teaching with one of the largest Irish dance schools in the area, and it instilled in me a deep respect for traditional Irish dance.
In 2019, we moved to Lake Forest (my husband grew up here) and a lot changed. We had welcomed our first son, I quit my job in consulting to stay home, and although I was still teaching Irish dance in the city on the weekends, I saw an opportunity to build a stronger connection to Ireland here. I'll put it this way: St. Patrick's Day on the North Shore came and went and you could hear a pin drop! Something needed to change.
After an amazing 30 years with my old Irish dance school, I decided to give it a go on my own. I wanted to honor the tradition in which I was raised but also embrace a more holistic approach. Now, I have the privilege of teaching in my own way for my children, friends and neighbors just blocks from home. It's an honor.
LF/LB: What is your vision or hope for the future of your business?
KF:  We've been up and running for about 9 months and have cultivated an amazing community of dancers, families and partners who support our mission and share in our joy. The FSID Family, as we call it, is so special, and I am confident we will continue to grow as a dance school and as a community.
Even if you don't have a dancer with us, there are still opportunities to get involved. After our inaugural golf outing this summer at Deerpath Golf Course, a guest told me that he couldn't believe he was just five minutes from home. We had enjoyed a beautiful reception on the patio overlooking the greens, an Irish band played tunes, the Consul General of Ireland was in attendance, and DPGC had brought in Guinness just for our group (special shoutout to their GM, Patrick O'Donoghue, for realizing our vision!).
We will continue to introduce these experiences to the North Shore. Trophies are great, but building a strong community of happy and successful dancers and families connected to the Irish tradition – that is my vision.
LF/LB:  How does Fitzpatrick School of Irish Dance give back to the community?
 KF:  Something else that sets us apart is that we launched a foundation in conjunction with the dance school. Our foundation is designed to cultivate a deeper appreciation for international culture by expanding educational and recreational opportunities related to Irish music, dance, arts and sport, and we are excited to build out our programming and offerings as we grow.
LF/LB: Is there anything else you would like to share about your business?
KF: I want to express my gratitude to the Lake Forest community for the incredibly warm welcome over the past year! From the LF/LB Chamber to Forest & Bluff to Gorton Community Center to Kiddles Sports and many more, we've felt so supported by these fabulous local organizations who have spread the word about our school. Thank you!
Finally, we regularly host events that are open to the public. Our upcoming holiday party will take place in downtown Lake Forest and feature (naturally!) an Irish band and a performance by our dancers.  Check out www.fitzpatrickschoolofirishdance.com for details. All are welcome!