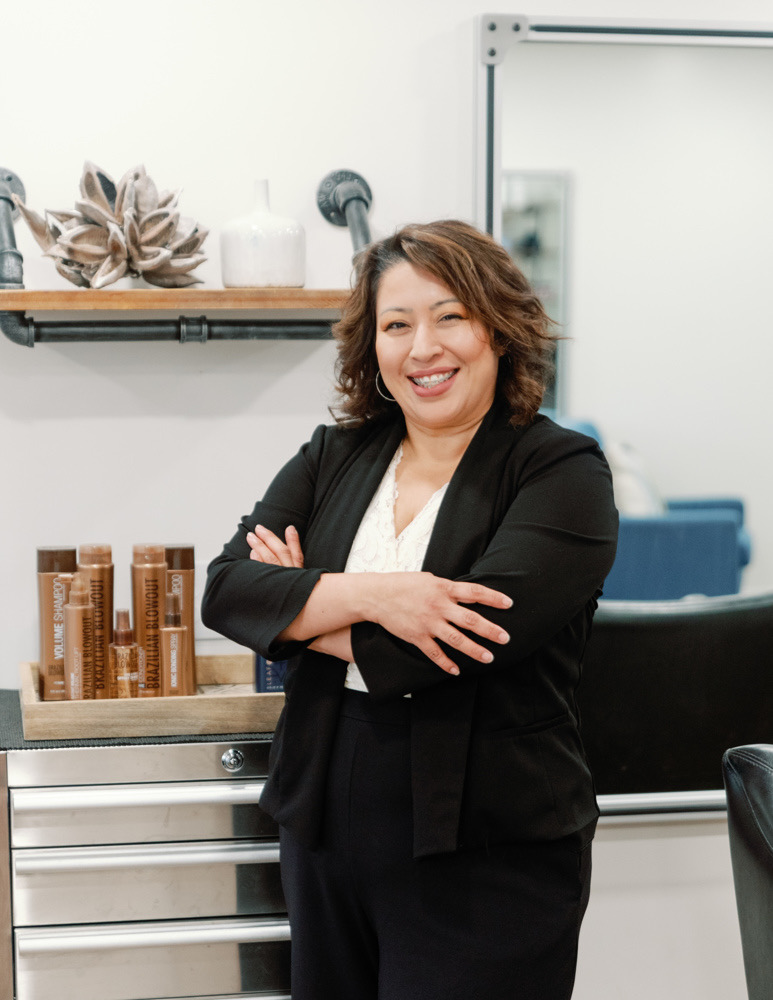 Member Spotlight: Judith Villegas, Owner, Judith's Hair Studio
Lake/Forest Lake Bluff Chamber:  Tell us a little bit about Judith's Hair Studio and what makes your salon unique?
Judith Villegas:   We have been business owners in the community for 12 years when my sister and I first opened our salon, Infinity Creations.  I always wanted our salon to feel like a special community to our clients so in 2017 we rebranded the salon and renamed it, Judith's Hair Studio.  We are thrilled to have now found the perfect space and we are proud to be part of the Lake Bluff business community.  It feels like home.
I come from a barber shop background, so I bring a unique approach to styling my clients.  When clients walk in with shoulder length hair looking for pixie cuts or an A-line classic bob, I love to make it happen. From tailored and tidy, clean-up cuts to blowouts, I pride myself on being a stylist who combines classic with modern cuts.  We also offer color services, conditioning treatments and more!
LF/LB: What inspired you to pursue a career in the beauty industry?
JV:  As long as I can remember, I always wanted to do hair.  Beauty and hair have always been my passion.  My neighbors loved watching me walk to school every morning and got a kick out of seeing what hair style I had that day.  I was always trying out different hair styles on myself and my friends.  In college, I went on to take business classes and I was a good student.  I had an "ah-ha" moment one day when my dad said he was proud of me for doing well in school but asked if I was happy on this career path?  At that point, I shifted my focus and pursued my dream of a career in beauty, using my business background to eventually open my own salon.
LF/LB: What is your vision or hope for the future of your business?
JV:  10 years ago, the trend in the salon industry was to rent "salon suites"—a concept where you rent a chair or two in a large space, often chains or big salon spaces with a chain feel.  It was important to me to focus on a new way of working, I wanted to create a space with smaller square footage -- a boutique environment for our clients. My hope and vision are to continue to deepen my roots in the community and create a special studio space where my clients feel connected and cared for.
I am very proud of my sister who, while still working as a stylist at our salon, pursued her dream of earning a degree in education and soon will be awarded her Master's degree.  We are both passionate about educating others.  Bringing her background and expertise to the table, we are working to create opportunities to educate future stylists as well as consumers.  I was thrilled to partner with Gorton Community Center recently, teaching a teen self-care class, educating on how to properly treat hair, etc.  Now that we are in our dream salon space our goal within the next few years is to expand the educational piece of our business.
LF/LB:  How does Judith's Hair Studio give back to the community?
JV:  We absolutely love this community, the vibe Lake Bluff has, and we are excited to be a part of it.  One of our clients is a student at Lake Forest High School and connected us with the theatre department where we were able to support the students and do hair for their recent play.  It was a 1920's play and I love styling unique hair styles from that period.  It was a lot of fun and felt great to give back!
We are hoping to get involved with community events like the farmers market, handing out samples, and supporting other community events.
We love supporting other businesses in the community, which is why I joined the Chamber.  I know what it means to be a small business owner and I am proud to support my peers.
LF/LB: Is there anything else you would like to share about your business?
JV:  Landing the perfect space has been great, now we look forward to welcoming clients old and new into our salon.  We are a proud woman owned business and have a special appreciation for work life balance and the time our clients take out of their day to come see us. 
Editor's note!  In true Lake Bluff fashion, if you are lucky, you might even be greeted at the salon by Judith's adorable doodle, Ruffino -- who also has the best hair, of course!