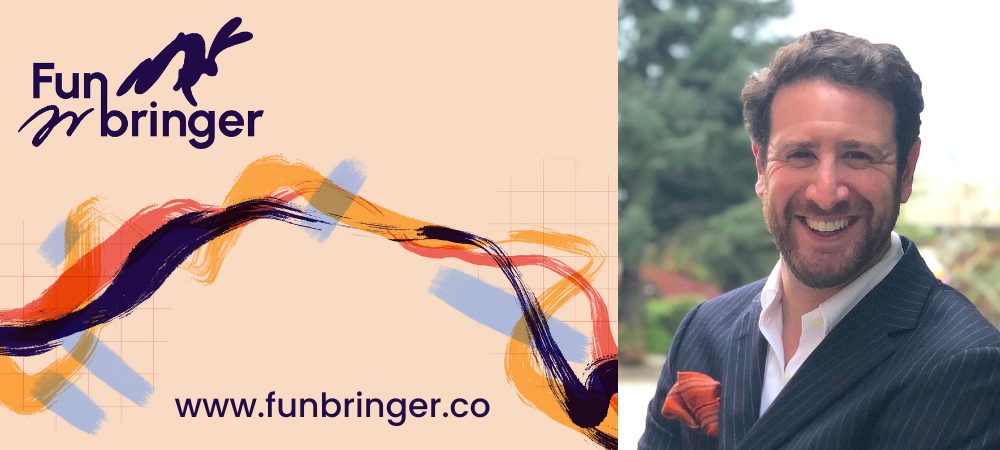 Member Spotlight: Dave O'Connor, Founder, Funbringer
Lake/Forest Lake Bluff Chamber:  Tell us a little bit about Funbringer, what makes your business unique and the services you offer?
Dave O'Connor: The founding principle of Funbringer is to have fun making fun for the world. Currently, we're doing that by helping leaders deeply understand their brand ethos so they can manifest a wildly magnetic brand. We do this through a personalized coaching and documentation process that culminates in a Brand Ethos Toolkit that can be used immediately by our clients and their designers, marketers and product developers. Our approach is unique in the level of introspection and cultivation of deeper level truths for the business we help to unearth. It can be a challenging and eye-opening experience that ultimately results in more fun for the brand and their fans. We're also tailoring our service to arts, entertainment and recreational companies but of course welcome all opportunities to help Lake Forest/Lake Bluff businesses!
LF/LB: What was your inspiration to start this business?
DO:  Late last summer, while still in the depths of Covid, I was contemplating business ideas that would be really energizing for me personally, let alone consumers. I kept coming back to this really pure notion of simply powering fun, whether that takes the shape of joy, curiosity, creativity, connection, amusement or delight. I want to be part of all of those experiences, and I want to create as many of those experiences as possible for the people around me. So I thought, why can't I just commit myself to supporting and creating fun brands? Why can't I bring the fun I wish to see in the world? Thus Funbringer was born as a business concept geared towards manifesting fun through others' efforts and ideas as well as my own.
LF/LB: What is your vision or hope for the future of Funbringer?
DO:  My hope is that eventually Funbringer is a holding company for fun brands. We're financing, advising and promoting brands that follow a manifesto centered around having fun completing fun projects that add net positive fun into our daily lives.
LF/LB:  How does Funbringer support and give back to the community?
DO:  At the moment, I'm personally giving back to the community as a Mentor for the Community Innovation Collaborative at LifeWorking. I'm currently advising a super bright woman who is preparing to launch an educational platform for nurses. She has a wonderful concept that is going to add a ton of value to the hospitals that hire entry-level nurses.
LF/LB: Is there anything else you would like to share about your business?
DO:  Having led private equity-backed startups and being a team member in large corporate settings before that, I can truly say that bootstrapping one's own business as I'm now doing is a daunting but massively rewarding process. While Funbringer is helping other businesses define themselves in clearer terms, I'm also doing that every day for myself and the Funbringer brand. I am, and anyone I eventually hire (I'm looking for college-aged interns, FYI), are here to lift up courageous business leaders that are facing down their challenges with courage and vulnerability. We're here for the fun! Let's make it happen.