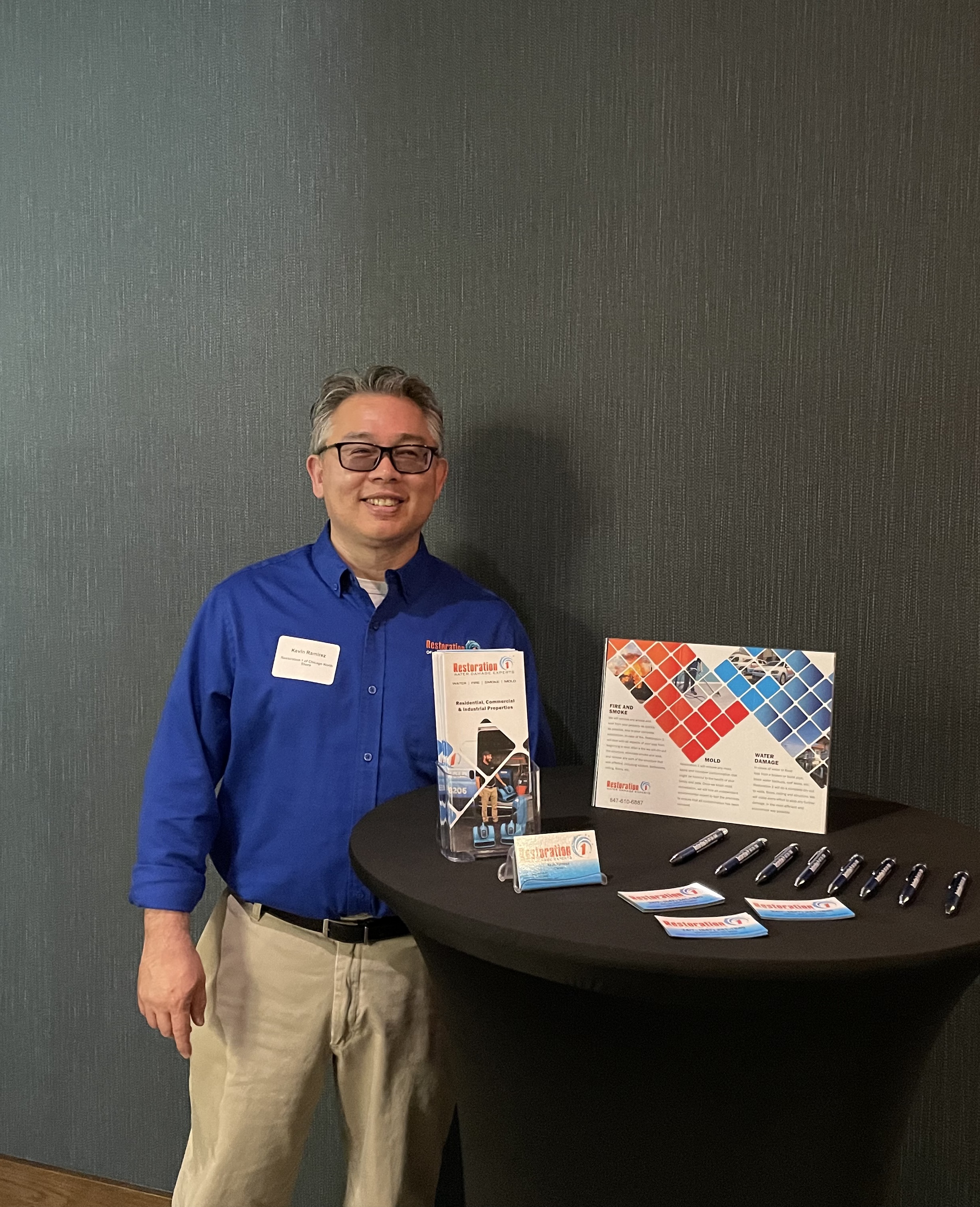 Member Spotlight: Kevin Ramirez, Owner, Restoration1 Chicago North Shore
Lake/Forest Lake Bluff Chamber: Tell us a little bit about Restoration1 and the services you offer?
Kevin Ramirez: We are water damage experts who specialize in disaster mitigation.  When you experience an emergency such as a flood, we are the service to call for help.  Our clients are both residential as well as commercial businesses.  While the bulk of our work is in water mitigation, we also handle fire, mold, and lead emergency services.  We regularly work with realtors to provide mold estimates and removal certificates when home inspections reveal mold issues.
LF/LB: What was your inspiration to open this business and embark on a career in property restoration?  
KR: Personal experience. My family has been through a water disaster, and I experienced first-hand the uncertainty and frustration in dealing with this kind of home emergency.  I saw a need to provide a service to help people through this process.  We come out immediately to assess the damage and scope of work.  We demo and dry out water professionally and quickly.  We pride ourselves on providing compassionate, personal service, honestly and transparency in the process.
LF/LB: What is your vision for the future of Restoration1 of Chicago North Shore?
 KR: While we are already regarded as experts in water, mold and fire mitigation, we look to expand our breadth of services based on needs such as ice damming, which is a prevalent problem in homes near the lake.  Ice damming occurs when snow builds up on a roof and melts and cannot drain properly resulting in damage from water leaking through a roof.  Ask us for preventative tips!
LF/LB: Are there ways you plan to support the greater community?
KR: Located in Lake Bluff on 176, we are excited to be a part of this community and the North Shore.  We service the North Shore from Lake Bluff to Evanston.  We believe in the value of being Chamber of Commerce members in the communities we service.  We regularly support youth services, donate to local auctions, festivals etc.  We are excited to have sponsored the recent LF/LB Chamber of Commerce Real Estate Market Update luncheon and we look forward to making more connections in Lake Forest and Lake Bluff.
LF/LB: Is there anything else you would like to share about your business?   
KR: We are honest and care about our customers.  We are open for business 24 hours a day, 7 days a week, 365 days a year.  I personally answer every phone call.  When you experience a water, mold or fire emergency, we should be your first call.  Time is of the essence when you experience these disasters.  Mold can start within 72 hours!  Insurance often covers water damage but not residual mold so please don't wait, call us right away to help.