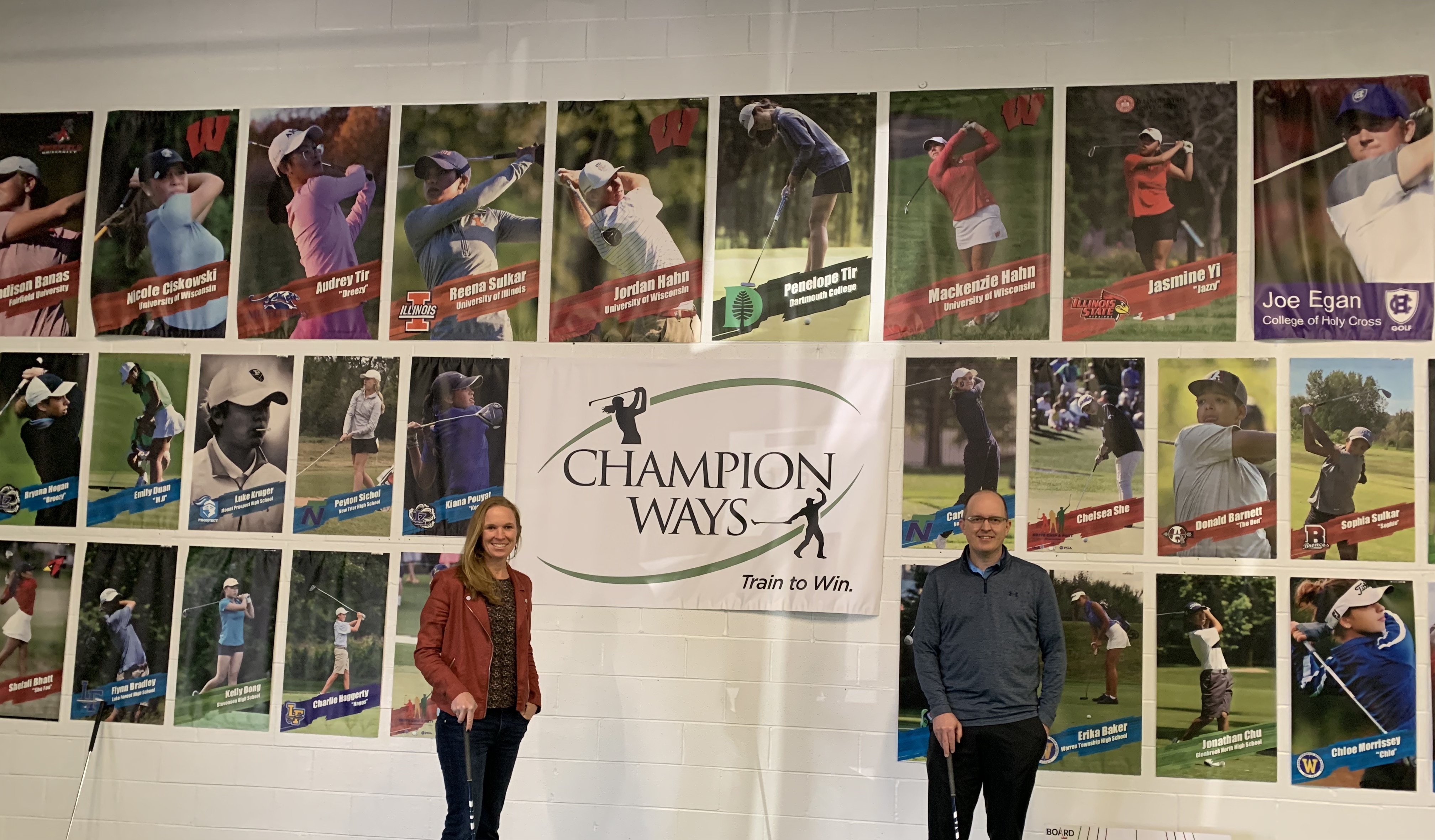 Member Spotlight- Champion Ways 
Lake Forest/Lake Bluff Chamber: Tell us about Champion Ways?
Lowey Sichol, President and Co-owner: Champion Ways is the premier indoor golf facility in the North Shore. Our facility spans 5,000 square feet, and includes five hitting bays with Foresight Sports simulators for precise swing and hit analysis. We have premium hitting turf and projection screens to give you an outdoor experience, along with unlimited golf balls. In addition, our short game area is one of a kind complete with our chipping green that was uniquely built on pounded sand, so it receives balls like a real green. Finally, the 400 square feet putting green has 9 holes strategically placed at various slopes and with different cup sizes so you can continue practicing your short game all year long.
Clark Bundy, VP of Operations and Co-owner: The Foresight software also offers golfers opportunities to play courses from all over the world. It simulates the experience of playing Pebble Beach or St. Andrews and many other amazing courses. It can track the carry of your ball, the speed and yardage.
LS: If people are looking for lessons, we offer private lessons with our pros who come from area golf clubs. You'll also see when you walk in the door, our wall of champions - these are posters of some of the junior golfers in the area who have practiced at Champion Ways and won tournaments either during the summer, in high school, or in college. We even have a few people up there who have gone on to play professionally!
LF/LB: How do people sign up?
The way Champion Ways works is that we are a membership-based business. Every member receives a key to the facility and can reserve a hitting bay in advance, so they have access to Champion Ways when it is convenient for them. We also cap our membership, so the facility is never crowded, and members never wait for a spot to practice. Since our opening, we have seen membership grow through word of mouth, which is wonderful to see people wanting to bring their teammates, friends, and neighbors to Champion Ways.
LF/LB: What is the one thing you want people to know about Champion Ways?
LS: Champion Ways is a true hidden gem. It is the only premier indoor golf facility of its kind in the North Shore. It appeals to people who want to improve their game during the off season or inclement weather and gives people the opportunity to maintain and improve their skills all year round at their convenience. Also, since we don't allow daily rentals or issue day passes, our members know they have a place to come that isn't crowded. They can work on their game or just have fun and play a course like Pebble Beach.
LF/LB: What was your inspiration to get involved in the golf business and open Champion Ways?
LS: Champion Ways is the result of an indoor golf facility that previously occupied the space. My kids were former customers and when we heard it was planning to close, it broke my heart to lose such an amazing golf facility. So, along with Clark Bundy, we bought the business in April of 2021. We also kept Kiel Alderink on board as Director of Golf. Last summer, we completed several big renovations to improve the space and re-opened in October of 2021.
Also, I have always been a big supporter of women's sports. I was a two-sport college athlete and have twin daughters who play golf for New Trier and will play in college next year. It was important to keep a facility like this in the community for other golfers, especially junior golfers. I am committed to seeing the game grow, especially for girls, and am excited to help make that happen through Champion Ways.
CB: This is a second career for Lowey and me, as this is a side business for us, but given our love for the game, it has been a fun venture.