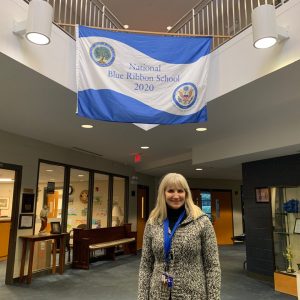 Member Spotlight- School of St. Mary
Lake Forest/Lake Bluff Chamber: Tell us about The School of St. Mary?
Dr. Julie Brua, Principal of School of St. Mary: The School of St. Mary is a three-time Blue Ribbon School Award winner which we won most recently in 2020. We offer outstanding academics and social and emotional learning. Our mission is To Learn, To Serve and To Lead. We offer both academic and service components embedded in faith to 430 students. We saw an influx of families during the pandemic, and we are delighted that many families remained.  
LF/LB: What is the one thing you want people to know about the school?
Dr. B: We teach to the whole child; academically, physically, emotionally, and spiritually. 
LF/LB: What was your inspiration to embark on a career in education? 
Dr. B: My parents were both involved in the schools when I was growing up. My father was President of the School Board and always taught me that education is the greatest equalizer, and I was always involved in my Catholic church and taught religious education. 
LF/LB: How does The School of St. Mary get involved in the community? 
Dr. B: Our 7th graders opted out of having a Halloween party this year and decided to participate in Fill a Heart for kids. The students and their families also helped Roberti House with their Fill a Basket event for Thanksgiving and donated many meals. We also see many of our students become actively involved in St. Mary's church. 
LF/LB: What is your vision for the school? 
Dr. B: We want to continue moving toward excellence and follow our mission statement; to learn, to serve and to lead.