Member Spotlight- Lake Shore Harley-Davidson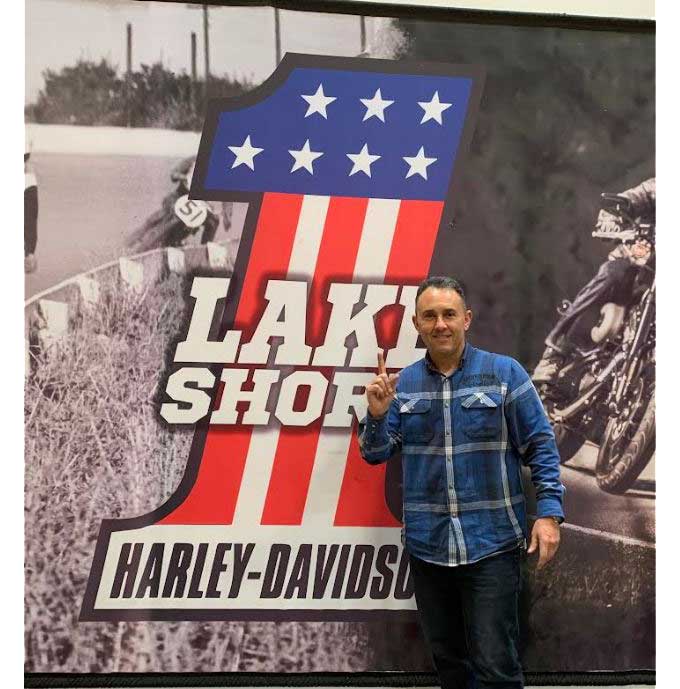 Lake Forest/Lake Bluff Chamber: Tell us about Lake Shore Harley-Davidson?
Nick Wissman, General Sales & Business Manager: We are owned by Windy City Motor Company, and we are one of 14 locations under that umbrella. Our location has the largest used inventory in the Midwest and in the entire U.S. We offer many price points that can appeal to all budgets.  We have motorcycles starting at $1900 all the way up to $50,000.   Riders can choose from many large parts and accessories to personalize their bike since exploring personal freedom has always been one of our mantras.  
We also have lots of gear in stock. Riding with the correct gear is so important for safety reasons, wearing improper gear is frowned upon. We sell armored jackets, pants and gear for all seasons to make sure riders are comfortable no matter the weather. While many people think the riding season is very short in the Midwest, we offer gear to extend it. We can install heated seats and heated grips to elongate the season to about eight months. When you aren't riding your bike, we offer winter storage at our location. If we get lucky and there is a 60-degree day in February, no problem. Just call us and we will get your bike out of storage for the day since all our bikes are stored on-site. When the bikes are in storage, we can get them ready for spring with any necessary tune-ups.  
Also, our location also has an award-winning service department. We have three master technicians and a dyno room. Our dyno room can calibrate the motor based on rider preferences. We can make your bike suitable for a specific ride, like a mountain or a desert ride. We will make sure the air density and horsepower are aligned with the environment. We can make bikes loud, quiet, dark, shiny, fast, or slow. Whatever a rider's preference, we can tailor it to their needs. 
LF/LB: What is the one thing you want people to know about Lake Shore Harley-Davidson?
NW: There is a wonderful culture and community of riders. The love of motorcycles brings people together and our riders have developed a great camaraderie. The word HOG stands for Harley Owners Group, and we have L HOG, Ladies of Harley as well. Our HOG Chapter meets monthly and is a tight community. We organize many ways to get together and take group rides. Riding in large groups also promotes safety as there is safety in numbers. 
LF/LB: What was your inspiration to work in the motorcycle industry? 
NW: I loved riding my bicycle as a kid, I rode all over my neighborhood for hours and I loved the freedom. My older brother had a motorcycle, and it really piqued my interest and got me started. I have been with Harley for 21 years now and I love it.  
LF/LB: How does Lake Shore Harley-Davidson get involved in the community? 
NW: We host several events throughout the year to give back to many different causes. We have rides for a cause and sponsored dealer rides where riders will pay an entrance fee or donate to participate.  
LF/LB: What is your vision for Lake Shore Harley-Davidson? 
NW: We want to reintroduce youth to the love of bicycles. Given all the technology available to kids today, encouraging kids to get outside and embark on new adventures is important. Harley has an electric line of bikes that are perfect for kids. They have a charging system with limited speed settings, and they look just like a regular bicycle with pedals, but they are powered by electricity.  
Also, we are all about promoting safety so that is always a part of our vision. For customers 18+ we have a learn to ride academy. It involves a 2-day classroom session and then a 2-day hands on training on our training motorcycles in the parking lot of Lambs Farm. We want to teach more people to ride but ride safely.