2021 Lunch with the Mayors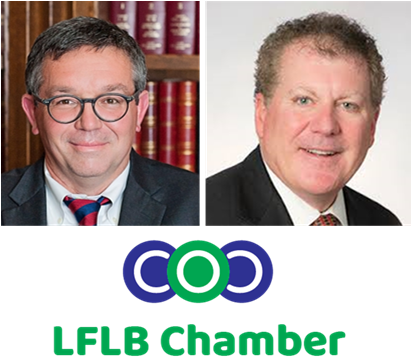 Bright Futures Predicted for Lake Forest & Lake Bluff as Mayors Share Municipal Updates at Annual LF/LB Chamber Luncheon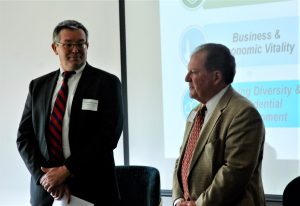 [Lake Forest, Illinois – July 14, 2021]
Over 100 local business leaders enjoyed the Annual LF/LB Chamber 'Luncheon with the Mayors' on Wednesday, July 14 at the Forester, a Hyatt Place Hotel that opened in Lake Forest in April. It was the Chamber's first large-scale event held in person in the past 18 months. Incoming Lake Bluff Village President Regis Charlot and Lake Forest Mayor George Pandaleon offered optimistic outlooks for both communities as the world begins to move beyond the Covid crisis.
Both leaders addressed their respective municipalities' efforts over the past year regarding strategic priorities, the Covid aftermath, financial health, real estate, business development, construction, and new initiatives.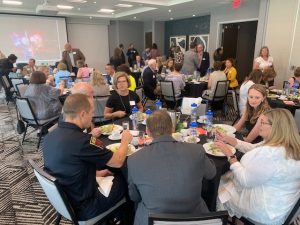 Lake Bluff's strategic plan continues to focus on its vibrant community culture and quality of life with an emphasis on the village's authentic atmosphere. More than 65% of Lake Bluffers have received at least one dose of the Covid vaccine, and all signs point to residents ready to emerge from this difficult time. According to Charlot, despite a dip in sales tax revenues in 2020, the annual general fund remains healthy.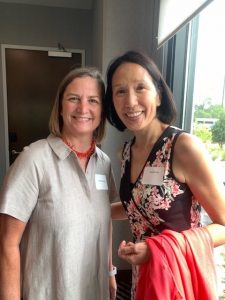 He also shared that the real estate market in Lake Bluff remains hot, with homes for sale now spending an average of just 38 days on the market while average home sale prices have increased over last year. There is renewed focus on Lake Bluff's downtown with streetscape and business development initiatives in the near future which will contribute to Lake Bluff's attraction as a destination community. New and expanded businesses include Bonk, Tropical Smoothie Café, Cache, Prairie Espresso, Suzy's Swirl, and a new English pub.
Lake Bluff is in the planning stages of storm water infrastructure improvements to alleviate flooding, and the village is currently repairing the Robert McClory bike path bridge, beach access areas, Tangley Oaks paths and various roads throughout town, he added.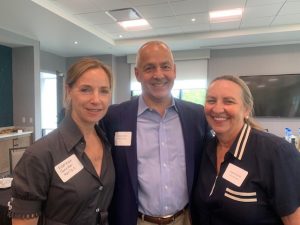 Charlot rejoiced in sharing details of the success of the re-tooled July 4 parade, the opening of the Lake Bluff Farmer's Market, upcoming Bluffinia concerts, the continuation of downtown block parties, and the return of the criterium bike race in July. He also noted the long-awaited Lake Bluff 125 +1 Birthday Party is planned for September. "Lake Bluff is back!" he declared.
He also noted that the Chamber luncheon was taking place on Bastille Day, the celebration of French independence, and he quipped, tongue-in-cheek, that due to his French heritage, perhaps July 14 could be as exciting as July 4 in Lake Bluff in the future.
Lake Forest's post-pandemic outlook, presented by Pandaleon, is just as bright. The mayor pointed out that four of the city's top strengths—safety, schools, savings and space—became highly desired community attributes as the epidemic swept the globe, and since 2019 nearly one thousand new families now call Lake Forest home. He also recognized the incredible volunteer activity and community spirit that Lake Foresters exhibited, and he commended city staff for continuing to provide critical services during the recent trying times.
With the fiscal year ended April 2021, Lake Forest significantly outperformed conservative budget projections and emerged from the pandemic financially stronger than ever, due in part to the high volume of real estate transactions. This, along with increased daily beach fees and Deerpath Golf Course revenue, offset the decrease from Parks & Rec participant fees due to their cancellation throughout 2020. He explained that the City has made additional investment in public safety pension plans, has a business assistance program in place, and will finish out this year with a record surplus.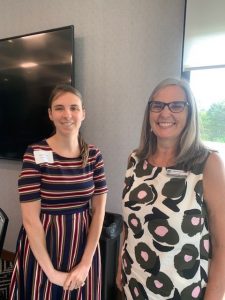 Pandaleon also updated attendees on the Deerpath Road underpass project to address 100-year floods that he jokingly estimated to be occurring every six months or so. He asked for the public's patience as Deerpath lane closures continue through mid-August and noted that additional work on the massive new pump will carry on through the end of 2022, with little impact on traffic. Other projects in the offing include bluff stabilization at the beach, on-going ravine infrastructure improvement and long-term solutions to address potentially high lake levels. There is also possible expansion of Lake Forest Hospital in the future.
Regarding business development, Pandaleon was pleased to welcome several new restaurants to the city including Everett Farms, The Station, Donati's Pizza, Jefe's Tacos, Rosati's Pizza and Le Colonial opening in the future, as well all the first hotel to open in Lake Forest in 92 years--The Forester, the site of the luncheon. He also noted that other major restaurant operators are showing strong interest in the Lake Forest market and mentioned on-going efforts to bring vitality to the west side of town.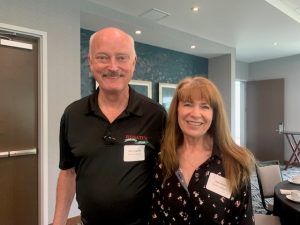 When asked to discuss what's new, Pandaleon cited the City's newly designed website and accompanying app, and encouraged residents to download it to pay bills, contact City personnel and more. He also listed several newly formed committees to address issues such as economic development, Deerpath Park renovation, housing codes, Deerpath streetscape and more. Lastly, he encouraged everyone to enjoy Lake Forest Day August 3 and 4.
"We were thrilled to be back in person for this annual event again this year," said Joanna Rolek, Executive Director of the LF/LB Chamber of Commerce. "Our special guests provided such valuable insight into community initiatives and we all thoroughly enjoyed the opportunity to congregate again and experience The Forester," she added.
The luncheon was sponsored by Lake Forest Bank & Trust Company, LifeWorking Coworking and The Sheridan at Green Oaks.
Amy Taylor, LF/LB Chamber Communications
Photos: Sarah Lockhart & Amy Taylor