Mary Jane & Chris Morgan - Lake Forest True Value Hardware, Cards & Gifts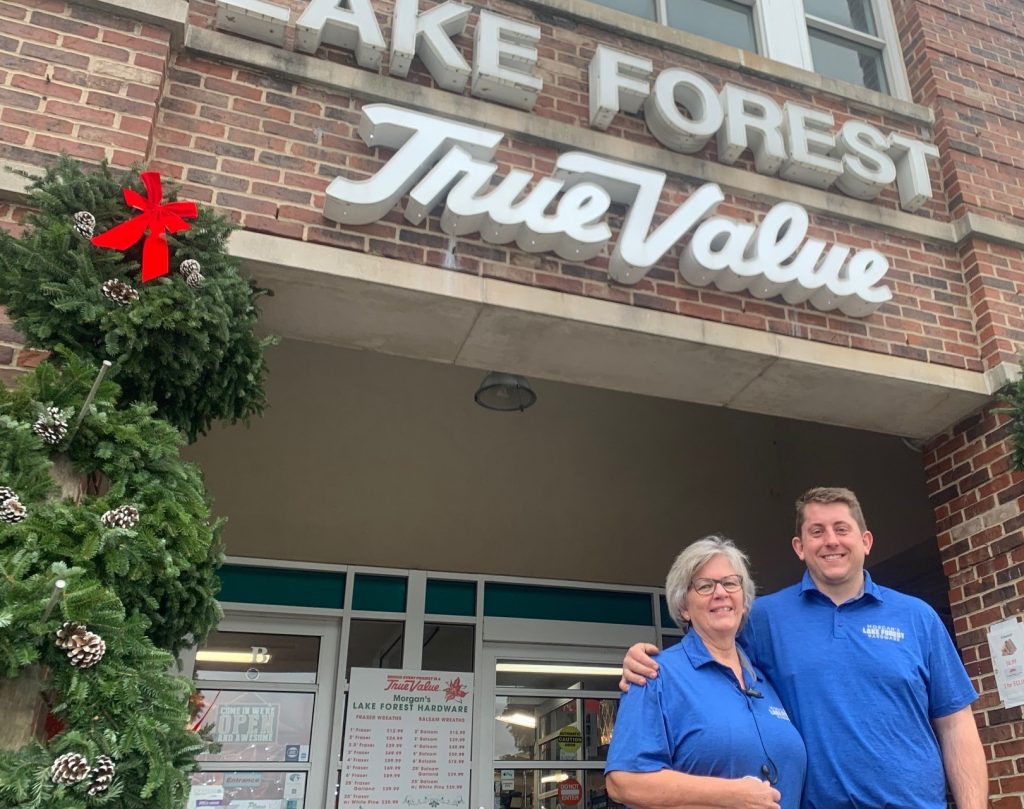 Mary Jane & Chris Morgan
Lake Forest True Value Hardware, Cards & Gifts
https://stores.truevalue.com/il/lake-forest/14090/
847-615-8949
Lake Forest/Lake Bluff Chamber:  Tell us about Lake Forest True Value Hardware, Cards & Gifts and your inspiration to start the business.
Mary Jane Morgan: Well, we're a family-owned business and we've been here since 1991. My husband, Keith, and I started it when this shopping area was built, and we were the first ones here. It'll be 30 years next year. Keith loved hardware ever since college--he had worked at Ace--and so we decided to open a hardware store. Sadly, he passed away seven years ago, and now my son, Chris, and I run the business together. Sometimes I say running the store is like having a baby…you have to feed it, clean it, take care of it all the time!
LFLBC: You have 'Gifts' in your name. Tell us about holiday shopping at LF True Value.
MJM:  We work hard to make sure we have gifts for everyone--adults and kids, boys and girls of all ages. We carry unique things that you can't find anywhere else. We've added a lot of great toys this year. We like contributing to the feel of an old-fashioned hometown Christmas.
LFLBC: What is one thing you want people to know about the store?
MJM: We love owning the community hardware store. It's like a hub—people run into friends and neighbors in the aisles, and they connect in the store. We love to foster that community feeling. And we try to carry everything that people might need, good quality products.
LFLBC: How have you adapted during the Coronavirus crisis?
Chris Morgan: With everyone at home, hardware has been really busy. We've made it a safe shopping environment with cleaning, and mask-wearing. And it's a big store--we don't get overly crowded like a big box store might. We're also doing online and phone orders, plus curbside pick up and delivery. We'll even go next door to PostNet and ship something for our customers. We've adapted in so many ways to help our customers feel safe shopping with us.
LFLBC: How do you give back to the community?
MJM: We donate to all the local causes whenever anyone asks. We like to do what we can to make the community even better.
CM: We donate to all the community causes and give back the best we can. We've contributed to so many of the high school teams and clubs.
LFLBC: Is there anything else you'd like to share?
CM: Come in and see us. We're really thankful for the community supporting our local brick and mortar stores and shopping local.
12.14.2020