Sarah Lambrecht - The Initial Choice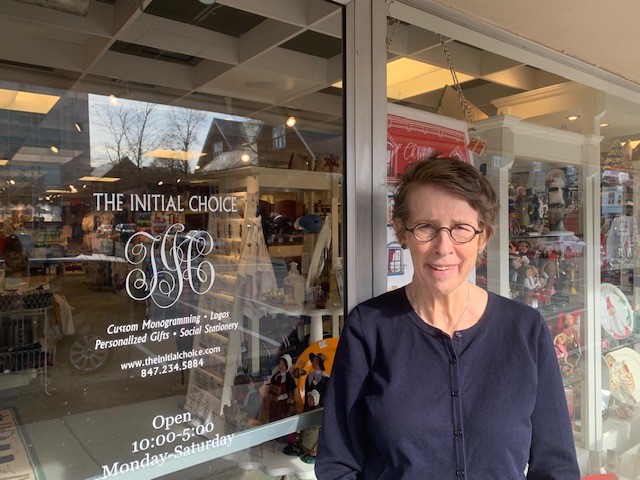 The Initial Choice
https://www.theinitialchoice.com
847-234-5884
Lake Forest/Lake Bluff Chamber:  Tell us about The Initial Choice and your inspiration to work there. 
Sarah Lambrecht: My mom opened the business in 1981 and I joined her in 1984 during a reprieve from my previous job. It was just meant to be a short-term gig for me, but now it's turned into 30 plus years. There were some skills that I had that really fit with working here, so I stuck around. Sadly, I lost my mom in April. 
The Initial Choice has always been all about monogramming, and my mom had a thing for craftiness, so back in the '70's and '80's we carried a lot of country-themed decorations. But we've evolved with the times and now focus on items that are unique and well-made--gifts for babies and toddlers, Lake Forest and Lake Bluff items, and a wide array of items that can be personalized. We do a lot of logos and custom work:  like reproducing a signature in embroidery for a jacket and a crest from an invitation on napkins for a wedding…that's one aspect of the shop that's personally satisfying. You can't go on Amazon and get something like that. We enjoy working with our customers to develop a product they are really happy with that can really make a birthday, anniversary or family gathering memorable.  
LFLBC: What is the one thing you want people to know about The Initial Choice?
SL: We really focus on quality items and ensuring that customers are happy with their personalization. There are so many options with monogramming—color, style, size and placement—so we do a really good job of screening the choices that we offer. We work with people to understand what they want and give them that. We value providing the best customer service and care for the finished product above all. We also look for products that are made in the USA, and we work with women-owned companies as well.
LFLBC: How have you adapted during the Coronavirus crisis?
SL: Well, we've been wearing masks from the beginning and we're aware of limiting the number of people in the store at one time. We've also encouraged our customers to place phone orders and visit our updated website. When we had to close for two months earlier this year, we focused on getting our most popular and new products on our website. Of course, we offer curbside, delivery and shipping. And we also welcome customers to come into the store for the satisfaction of shopping and choosing personalization in person. It can be challenging to make monogramming choices by phone or online.
LFLBC: How do you give back to the community?
SL: We regularly donate to local causes when people ask. We've just participated in the Hospital's Women's Board Holiday Boutique, we have collaborated with kids from the high school, selling things they have invented and produced. And we also carry a big selection of Lake Forest and Lake Bluff products in an effort to contribute to a greater sense of community.
LFLBC: Is there anything else you'd like to share?
SL: Visit our website [www.theinitialchoice.com], give us a call, or stop in and see us for any gifts you may need to buy.  We have the best selection of stockings! Come see us if you need a personalized stocking this year. And we are open Sundays 12-4 between Thanksgiving and Christmas.
11.23.2020