Beth Neville - The Lantern of Lake Forest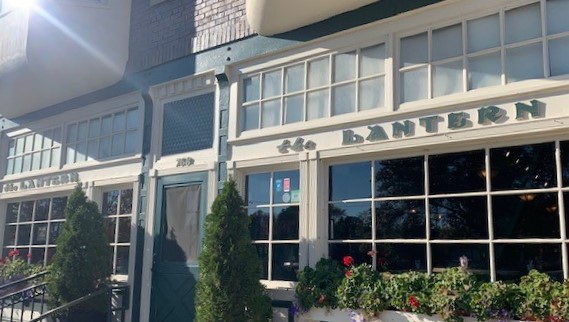 Beth Neville – The Lantern
www.thelanternoflakeforest.com
847-234-9844
Lake Forest/Lake Bluff Chamber:
Tell us about The Lantern of Lake Forest and how you came to work there.
Beth Neville: We've been in town since 1934 and my family has owned it since the 1970s. It's a little bit cliché, but my dad was a cop and then he bought a bar. I've worked here forever. I grew up in Lake Bluff and went through the local schools. I went off to college at UNLV for their restaurant program so I could come back and make The Lantern even better.
LFLBC: What is the one thing you want people to know about The Lantern?
BN: We're like the local community restaurant. We've been here a really long time and a lot of our customers come here a few times a week because they love our food, and it's really affordable.  We're the restaurant in town for everyone—our regulars, families, LF college kids… People always run into neighbors and friends here.
LFLBC: How have you adapted during the Coronavirus crisis?
BN: I really wish things could get back to normal. We miss having the Balloon Lady here, and serving popcorn! It's just not the same right now.
Lake Forest Bank & Trust was kind enough to let us use part of their parking lot this summer for our outdoor dining (and we'll continue that), but we're working on getting a tent as well.
We had a really huge menu and we've streamlined it to just our top sellers like our burgers, Rueben's, chicken pot pie, cobb salad…stuff like that. And we still have the kids menu with the smiley face fries! We're doing a lot of carryout business now, which is great.
LFLBC: How do you give back to the community?
BN:  We donate to Lake Forest & Lake Bluff school fundraisers, we participate in discount programs with some of the High School teams and we offer various discounts for other community fundraisers. And we always allow the Boy Scouts to sell their popcorn in front of the restaurant!
LFLBC: Is there anything else you'd like to share?
BN: If you're tired of cooking, but you want delicious comfort food, call us [847-234-9844] to order carryout. We'll be taking online orders as soon as we get that functionality on our website http://www.thelanternoflakeforest.com/
Note: Due to current restrictions the restaurant will be open weekends only (Friday - Sunday).
11.2.2020