Doug Karnazes - Bluffington's Cafe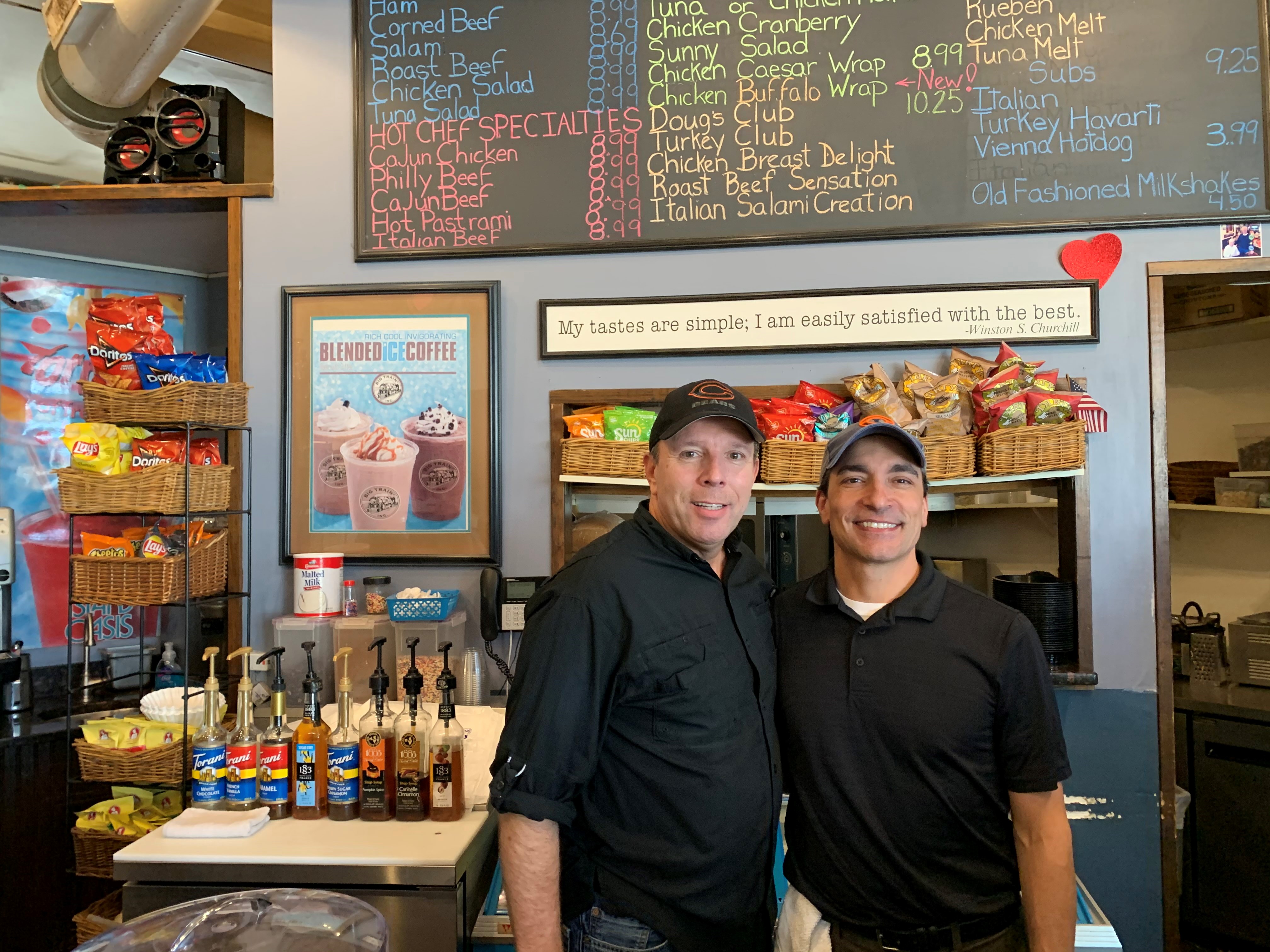 Doug Karnazes
Bluffington's Cafe
113 E. Scranton Ave., LB
Cozy cafe with delicious food and a touch of English decor.
Lake Forest/Lake Bluff Chamber of Commerce: What was your inspiration for opening Bluffington's?
Doug Karnazes: Well, originally it was my father's, Jim Karnazes. [In the late '80's] he was looking at possible locations for months, he wanted a unique kind of town where he could open his business.  His dad (my grandfather) owned a restaurant, so that was always my Dad's dream too, to open his own restaurant.  He looked all over suburban Chicagoland, places like Arlington Heights, Highland Park and Deerfield (where we grew up). One day my Dad came into the kitchen at our house in Deerfield and said he found the perfect spot to start his business—Lake Bluff. We were all very excited for him and we said, 'let's go see what this Lake Bluff is all about.'  That is how our family business started.  We all worked there—me, my dad, my mom, my 2 sisters and three brothers.  It was called the Scranton Cafe. Then I went off to college and went into hotel management.  Eventually, my dad sold it to two brothers and a few years after that they sold it to a third owner, eventually it went out of business altogether.
That's when Gary Lawrence [from Lawrence Interiors] next door called me and my brother Kenny and said, "are you guys interested in [the restaurant space]?" We started thinking about how we always had so much fun there and made so many memories.  At the time, I was a manager at the Marriott Suites in Rosemont, but was excited at the thought of continuing my Dad's legacy, I spoke to my brother Kenny and together we decided to go for it.
We wanted to change the name of the Cafe to distinguish ourselves from the last two owners.  We decided to call it Bluffington's Cafe.  That how we started up again—that was 22 years ago.   I am very grateful to my brother Kenny who taught me so much about the restaurant business and is now the owner of the Graffiti Grill in Lake Bluff.
LFLBC: What is your vision for the restaurant?
DK: The vision has always been as my dad envisioned it—it's a small community, and we serve delicious food, we give great customer service in a friendly and welcoming atmosphere.  My dad was always big on the little things—he'd come in and check on the potato salad ('it's a little too lumpy'), make sure we had fresh flowers on all of the tables, things that this were very important to him, he was always teaching us to focus on the little things.  We just want to make it a very welcoming restaurant for the community to come in and enjoy great food.  And what better community than Lake Bluff to do it in!
LFLBC: What is one thing you want people to know about Bluffington's?
DK: That my dad had a dream and that we are keeping it alive.  He had six kids and a wife, and he worked hard and this is his dream.  Sadly, he is no longer with us, but I know he is up in heaven looking down and seeing this place and all the people that come in here and how we can make them smile every day.
LFLBC: What has been your greatest business initiative?
DK: It goes back to my Marriott days where I learned about customer service.  It's just recognizing people as they're coming through our door and knowing their names and making a personal connection. It's just making people feel at home, like a relative sitting down in your kitchen. We like to have fun and joke with our customers....especially in the morning when we have more time to chat and joke around. We're always looking to make a positive impact. This morning, one of our customers came in who is going through a hard time and she just wanted someone to talk to and I was just listening. It was nice to know that we could provide a place where she felt comfortable in the midst of the pain she was going through.
LFLBC: How do you give back?
DK: We have a program where we charge $2 for a scoop of ice cream and that money goes into a huge container and when it fills up, it gets distributed to the two favorite charities of The Community Church—Beacon Place [a neighborhood community center in Waukegan] and World Bicycle Relief [providing bicycles to people in need].
That's another thing I learned from Marriott—the importance of giving back. We also give gift certificates to local fundraiser's. We love helping out in the community.
LFLBC: Is there anything else you'd like to share?
DK: I just want to acknowledge my business partner and best friend Derek Hilldale. He and I worked together at Marriott, and before we became partners here at Bluffingtons,  he owned a restaurant too. So, about 12 years ago, I brought him on as my business partner.  Partnering with Derek made things a little bit easier for both of our families.  We were both able to coach our daughters travel softball teams and have that precious family time. Our customers are truly the best, it is such a blessing to really get to know them and their families.  From our regulars like Dave and Sue who come in for breakfast and lunch almost every day, to the families whose children are now second generation customers, I have known them since they were in elementary school and now they are married and bringing their own kids in for lunch, it is really special.
We always love to see new faces at Bluffingtons!  Please come in and see us soon.  Be sure to stop in during restaurant week--we have some specials and we're doing a free soft drink with your purchase during restaurant week.